We've seen his breathtaking return of serve. We've seen his punishing groundstrokes. We've seen him fall into obscurity and rise to greatness. We've seen him overcome a dislike for Wimbledon and become the heart of Centre Court. What we saw on Thursday at the US Open was the sheer resolve that's made Andre Agassi possible.
He leapt, he stretched, he screwed his face in frustration, but never gave up.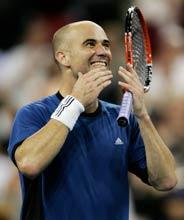 Against him was a man equally inspired. James Blake had come out successful from emotional and physical trauma that was heaped upon him last year. He was looking in great touch, had a better serve than Agassi and even a return that would see the old man turn green.
Agassi had no answers to Blake's baseline play. The errors, especially on the forehand, were on the rise. And in an hour he had conceded the first two sets, 3-6, 3-6. Then he lost his serve early in the third set. But another brave effort from the Las Vegan was ready to unfold under the floodlights of the Arthur Ashe stadium.
If anyone had to comeback from a hole like this, it had to be Agassi. He may be seeded seventh, is the crowd favourite, but all know that every round he wins is a bonus at the age of 35. The depth of men's tennis does not provide any place to hide.
We're not sure how his body can take the physical rigours of a tough campaign like the US Open. He had been stretched in the first three rounds and survived a five-setter from Xavier Malisse in the fourth round.
At the French Open this year, he walked back in pain after losing to Jarkko Niemenen in the first round in five sets. He had to take injections to stay in prime condition for a Grand Slam and was not sure how long he could keep doing it.
As he showed against Blake, he could still do it.
In the middle of the third set, he found enough motivation to defy the odds once more. He broke the Blake serve twice to win the third set. The 25 year old had started grunting after Agassi hit the ball deep from end to end.
Not a sound from his senior opponent. He was working his way around this tenacious player, who, with a spirited return to professional tennis, ensured as much crowd support as Agassi.
His eight Grand Slams notwithstanding, Agassi proved that he is a champion in mind and body.
For two sets he outmaneuvered Blake. He even matched Blake physically. The winners started to fall inches inside the line, the aces were coming handy and even the line calls started going his way. Breaking Blake's serve in the ninth game of the set, Agassi also captured the fourth set, 6-3.
Agassi could afford himself a smile now. The fightback was not complete but he was able to make a match out of it when defeat seemed inevitable.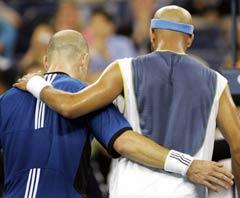 As he would have expected, Blake wasn't going to take it lying down. After well over two hours both Americans were ready to chase down the ball just to survive another go at it. Agassi's legs had to find strength for another battle.
The momentum was now with Blake, who started to gun for the baseline. He produced a couple of winners to break Agassi in the third game of the set and take a 2-1 lead. The game went on serve till 5-4 in favour of Blake and now he was serving for the match.
Agassi was hanging by his shirt, playing a high-risk game even as the unforced errors started to mount. It was pure courage when he went for a backhand down the line, which creamed the corner and set up two break-points for him in the tenth game.
He won the game and levelled the set 5-5. Two easy service games and both Americans were sending down jitters in the crowd at one in the morning. The match hung at 6-6, ready for a tie-break.
Blake began on a high, winning the first three points, but, in the end, it was Agassi who lapped it at 8-6.
Triumph, satisfaction, fatigue was written over his face as he rushed to congratulate his opponent. Their meeting at the net was as endearing as the three hours they spent on either side of it. The two great competitors didn't need any prodding to appreciate the epic they had just created.
The match was a slugfest but both men came out with respect for each other. They never let the `heat of the moment' take over and it was to their credit that of the many dubious line calls not one was questioned.
Blake had made it clear enough before the match that Agassi was one of his idols and there would be no shame losing to a player like him. Agassi may have given him one more reason to believe so.