Dominik Hrbaty of Slovakia caused more of a stir with his unusual tennis shirt on Sunday than he did with his 6-7, 7-5, 7-5, 7-5 third round victory against David Ferrer at the US Open.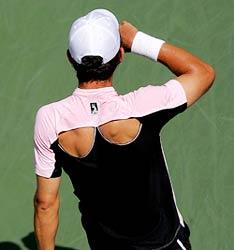 The 27-year-old Hrbaty sent titters through the Grandstand Court crowd with a see-through pink and black shirt that had two holes cut out in the back around his shoulder blades and looked more like lingerie than tennis apparel.
Before the match, Hrbaty had a ballperson apply sunscreen lotion to the exposed part of his back.
"Actually, I like it pretty much," he told reporters after the victory that lifted him to a round of 16 match against third seed Lleyton Hewitt of Australia.
"They [the guys in the locker room] are telling me I will have more gay fans. Andre [Agassi] said 'you should give it to the women's locker room."