With more than a billion people at home in India following her every move at the US Open, Sania Mirza knows what it is like to carry the weight of expectation on her shoulders.
Having become the first Indian woman to reach the fourth round of a Grand Slam event, the 18-year-old has the chance to make an even bigger name for herself on Sunday when she takes on top seed Maria Sharapova of Russia.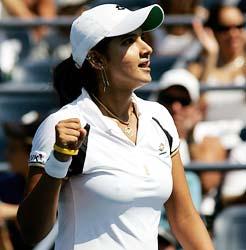 "I don't think I'll be intimidated but, you know, it's obviously a very big match for me," said Mirza, who has never met Sharapova on or off the court.
"I have nothing to lose if I'm going to play her. There's obviously no pressure on me. I don't think a lot of people expect me to win."
Mirza hit the headlines in January when she reached the third round of the Australian Open, losing to eventual champion Serena Williams.
"I think when I played Serena in Australia I was a bit nervous, to be honest," she said.
"Actually, that was the beginning of everything to happen. It was just that I woke up and I couldn't sleep the night before because I was going to play her."
Having ended last year ranked 206, Mirza arrived at Flushing Meadows as the world number 42 thanks to a run of form which included winning her first WTA Tour title in her home town of Hyderabad.
"I guess I'm just playing the best tennis I ever have," she said.
"I worked on a few weaknesses that I thought I had, especially my fitness. I was injured for about almost three months this year. Apart from that I think I've had a great year."
Despite her huge popularity, Mirza has been criticised by some people in India for baring flesh in her tennis gear.
The 18-year-old said she is no different to anyone else.
"No Muslim is perfect and no human being is perfect," she said.
"I guess I'm not dressing the way Islam states but I guess we all make mistakes and that's why Islam has forgiveness."
The responsibility of being the standard-bearer for Indian tennis, she said, was not an additional burden.
"That's not what I think every time I step on court, that an Indian never did this, an Indian never did that," she said.
"I'm just there because I want to be there. I'm happy, I'm starting something. I'm not thinking who did it or who's gonna do it."
Top seed Sharapova also admitted that it would be a tough contest.
"It's going to be another tough one. I haven't really seen much of how she plays. I heard she's got a  big and powerful game. You just have to go out there and see how it goes," the Russian said.
Photograph: Getty Images