M C Mery Kom may have conquered the world in the boxing ring, but back home she is struggling for something as basic as a job.
"I have got a lot of recognition, medals and awards, I cannot ask for anything. But if I also get a job, all my plights should be over," the diminutive boxer said, after returning from the women's World boxing championships on Tuesday.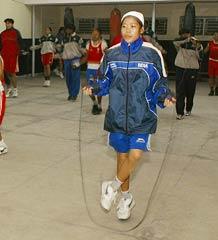 The Manipur pugilist reigned supreme for the second consecutive year, winning the 46 kg gold medal in the championships, at Podolsk, near Moscow, on Sunday.
Mery Kom says her dream is winning an Olympic gold medal, which could come true when the International Boxing Federation and International Olympic Council finalise the distribution of weight categories between the men and women disciplines in their meeting next week.
"I need one Olympic medal now and that might not be too far," she said.
Indian Amateur Boxing Federation general secretary Col Muraliraja said India can hope for its first ever Olympic medal in boxing as the AIBA and IOC will discuss the final weight categories -- seven for men and four for women -- before giving a final nod to the proposal after the World Cadet Championships from October 6 to 9.
"We have the potential to win a medal in the Olympics but need some financial help from corporate houses," he said.
Mery Kom has an enviable record, winning back-to-back titles at Asian and Commonwealth Championships before the honours at the world platform.
Besides, the Indian reached the final of the 48 kg in the inaugural edition in the United States, while winning the title in the previous edition in Turkey.
She also won the gold and best boxer award in the Tonsberg World Boxing tournament in Norway in 2004, and has various other international titles to her credit.
Mery Kom says Indian pugilists need to work even harder if they want to maintain their level at the world level.
"The success has not come easy to us [women boxers]. We have worked harder than our male counterparts, practicing three sessions a day. But that will not be enough if we have to compete in Olympics," she said.
"We need more facilities to qualify and win a medal in the Olympics. We also have to have self-belief because even one negative thought during the bout can be enough for a defeat.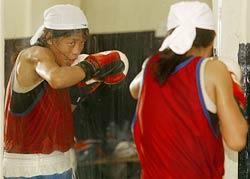 "I do not only rely on my technique or strength but also on my mind," said the boxer, who is full of confidence after being around for four years in the sport.
Mery Kom said she encounters new boxers every time as the older ones keep changing their class.
"I mostly meet different boxers in my weight category as the older ones change to higher weight category. but I have established myself here," she said, at a felicitation programme, organised by Indian Amateur Boxing Federation and YMCA.
Mery Kom, who got married in March this year, said she has the full support of her husband, Onler Kom, who is also hunting for a job.
Asked how the jobless couple manages their expenses, the genial boxer laughed it off saying, "We run our expenses on my award money."
Barring Mery Kom, the only Asian, and Canada's Spencer Mary, who had defeated Aruna Mishra in the in 66 kg semi-finals, all other gold medal winners were European boxers, according to the IABF.
India, winning a gold and four bronze, finished fifth in the championships, which saw 152 boxers from 28 countries participate.
The bronze winners were Kalpana Chaudhary (50kg), L Sarita Devi (54kg), Aswathy Mol (70kg), Jyotsana (86kg).
Russia won the team championship trophy while North Korea were second, followed by Turkey and Canada.
Photographs: Getty Images