George Best, whose flamboyant life took him from the heights of sporting success at Manchester United to the depths of alcoholism, died on Friday aged 59.
The Northern Irishman, widely regarded as the only British footballer in the same league as Pele, Diego Maradona and Johan Cruyff, died in the London hospital where he had spent the final two months of his life, drifting in and out of consciousness.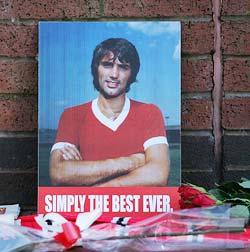 "My father has passed away," Best's tearful son Calum, 24, told reporters outside the hospital. "Not only have I lost my dad but we've all lost a wonderful man."
Best died of multiple organ failure after a lifetime of heavy drinking. He had suffered infection and internal bleeding in recent weeks and had problems with his liver and kidneys.
He will be remembered as one of the greatest flawed geniuses in the world of sport.
Years after hanging up his boots, he became Britain's most infamous alcoholic, appearing bloated and drunk in one notorious chat show interview in 1990.
Best summed up his turbulent life in one memorable phrase.
"I spent a lot of my money on booze [alcohol], birds [women] and fast cars. The rest I just squandered," he once wryly observed.
His marriage to a glamour model collapsed and although he underwent a liver transplant in 2002 he never managed to quit the drink.
News of his death dominated media reports throughout Friday.
Tributes poured in for the man who emerged from the back streets of Belfast to become one of sport's biggest icons and -- as the first superstar footballer -- an integral part of London's Swinging Sixties scene.
Denis Law and Bobby Charlton, who formed a "Holy Trinity" with Best at United in the 1960s, were among those who spoke of their sadness and loss.
"Manchester United's glorious history has been created by people like George Best," said Charlton, who spent almost 10 years alongside him at the club's Old Trafford grounds.
"Anyone who witnessed what George could do on the pitch wished they could do the same."
Prime Minister Tony Blair, attending a summit in Malta, described Best as "probably the most naturally gifted footballer of his generation and one of the best footballers our country has produced".
Soccer authorities said a minute's silence would be observed at English league matches this weekend as a mark of respect. A book of condolence will be opened at Old Trafford on Saturday.
SHRINE OF SCARVES
In Manchester, fans gathered in the winter gloom outside United's ground where they have created a shrine of scarves, photographs and replica shirts in Best's honour.
Passing motorists stopped to add their contributions, candles were lit, tears shed and heads were bowed in memory.
"I cried when he left United and I cried again today," said supporter Lawrence Chapple-Gill. "I have supported United since I was four or five when my dad gave me a poster of George Best and told me all about him."
Blessed with sublime skills, he won the European Cup with United in 1968, the year he was named European Footballer of the Year.
But he walked out on United in his mid-twenties and spent the rest of his career at modest sides in the lower reaches of English soccer and in the United States.
It is a measure of how far Best fell from grace that he played his last competitive match for a prison side while in jail for a drink-driving offence.
Best always maintained he had achieved all he wanted.
But, ultimately, he won just two English league titles as well as the European Cup -- a travesty for a footballer of his talent playing in one of the greatest club sides in the world.
And unlike Brazil's Pele, Argentina's Maradona and Holland's Cruyff, who came from major footballing nations, Best, from the small British-ruled province of Northern Ireland, never got the chance to play in a World Cup.
He will be buried in Belfast, alongside the grave of his mother Ann, next Friday.
(Additional reporting by Pete Oliver in Manchester)