Brazil striker Robinho said on Wednesday he hoped to move to Real Madrid, bringing an angry reaction from his club Santos.
"I hope to play for Real Madrid. I have spoken to Real Madrid and it will be good for my career to go now," he told Brazilian television in Frankfurt after playing in his country's 4-1 win over Argentina in the Confederations Cup final.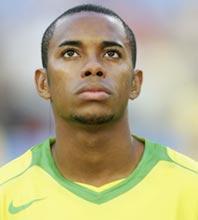 Robinho, a 21-year-old with outstanding skill, has been the subject of constant speculation over a possible move to Real but has usually ducked questions over his future.
Santos president Marcelo Teixeira said any club that wants to buy Robinho before his contract ends in 2008 would have to pay a $50 million penalty.
Teixeira, who has been fighting to keep Robinho at Santos in the face of persistent rumours of a move abroad, accused Real Madrid of behaving unethically by approaching Robinho without talking to the club.
Robinho, who burst on to the scene in 2002 when he helped Pele's former club win their first Brazilian championship, said he would return to Brazil and try to persuade Teixeira to allow him to leave.
"It'll be good for the safety of my family as well," said Robinho, whose mother was kidnapped and held captive for 40 days last year before being released unharmed.
"Spain is an ideal country for Brazilian players and I know [Real coach] Vanderlei Luxemburgo very well," said Robinho, who played under him last year when Santos won the Brazilian title again.
Teixeira said he was fed up with the constant speculation and accused the Spanish giants of jumping the gun.
"It's a lack of respect for Santos. They might have economic and financial power but it doesn't mean that they can do what they want, when they what," he told the Sportv cable television channel in a telephone interview.
"It won't be because of this that the player will go to Real Madrid, on the contrary," said Teixeira, who has already said Robinho will have a better chance of playing in next year's World Cup if he stays in Brazil until then.
"There is no situation today which is favourable to any negotiation with Real Madrid unless it involves the penalty clause," said Teixeira.
"He grew up and became valuable at Santos and we need him to stay. It's still not the moment for him to go."
Teixeira added that living and playing in Europe would not be easy. "There are a series of problems and difficulties which Robinho is not aware about," said Teixeira.