Roger Federer claimed a hat-trick of Wimbledon men's singles titles with a comfortable 6-2, 7-6, 6-4 victory over American Andy Roddick on Sunday.
The Swiss world number one joined Bjorn Borg and Pete Sampras as the only men to win three singles titles in a row at the All England Club since tennis turned professional in 1968.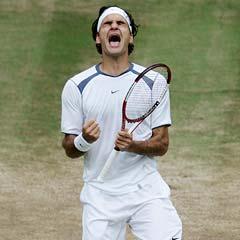 Federer, who was superb throughout, not only secured his 21st consecutive victory in a final but also extended his winning streak on grass to 36 matches.
"I really did play my best, it was easier than the second time," said Federer.
"I came here with huge expectations ... Sampras was one of my favourite players of all time, and Borg, to be in that group is very special. I hope it's not going to stop at three."
Second seed Roddick was unable to put Federer under any sustained pressure and finished runner-up to the Swiss for the second year in a row.
"I'm in the mood for a beer right now," said the 22-year-old.
"I put in the work and wanted it so badly but this guy is the best for a reason. He is such a complete player ... maybe I'll just punch him or something, I don't know."
The top seed captured his fifth Grand Slam crown to maintain his perfect record in major finals.
Only one point went against the serve in the opening five games of the match as both players quickly found their range on an overcast Centre Court.
It was not until the sixth game that Federer threatened his opponent's serve, a majestic backhand pass giving him a break point that Roddick saved.
Sensing his moment, however, he carved out another opportunity with a wristy forehand winner and this time Roddick cracked.
Federer accelerated through the first set, clinching another break at 5-2 with a miss-hit backhand that landed plumb on the line.
A shell-shocked Roddick was desperate for a foothold and it arrived at 1-1 in the second set when a flashing forehand forced Federer to drop a volley into the net.
The American fought off a break point in the next game to move ahead 3-1 as the final sparked into life.
Federer simply went up a gear, however, pressurising Roddick into errors with the sheer variety of his groundstrokes coupled with his telepathic court coverage.
The 23-year-old broke back when Roddick punched a backhand long and the alarm bells were ringing loudly for the American at 4-5 when his trusty serve was needed to fend off two set points.
Roddick, beaten only by Federer in his last 34 matches on grass, hung on grimly to force a tiebreak, but that proved a one-sided affair as the Swiss fired off winners all over the court to take it 7-2.
A 25-minute delay for light rain gave Roddick the opportunity to re-group.
When play resumed he briefly raised his game, but it was still not enough to knock Federer out of his stride.
In the sixth game Federer played the kind of return game that marks him out above every other player in the world.
Racing across the court he curled a delicious forehand down the line after a weak Roddick volley and went on to secure a decisive break with a dipping backhand that angled across the flailing American.
It was all too much for a drained-looking Roddick.
He went through the motions of holding his next two service games before Federer put him out of his misery with an unreturnable first serve.
Federer collapsed to the court, tears flowing, before collecting the Challenge Cup.
List of players who have won three or more consecutive Wimbledon men's singles titles:
  *William Renshaw (Britain)      1881-86
  *Reggie Doherty (Britain)       1897-1900
  *Laurie Doherty (Britain)       1902-06
  *Anthony Wilding (New Zealand)  1910-13
  Fred Perry (Britain)            1934-36
  Bjorn Borg (Sweden)             1976-80
  Pete Sampras (US)             1993-95, 1997-2000
  Roger Federer (Switzerland)     2003-05
Note: * denotes men's singles decided by a challenge round