Just a week ago if you asked someone on the street, 'Do you know Sania Mirza?' you would probably have got a negative reply.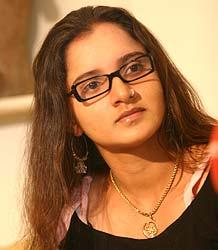 Today, the 18-year-old Hyderabad girl is perhaps the most-talked about personality in India; her picture adorns newspapers and web sites after she became the first Indian woman to reach the third round of a Grand Slam -- the 2005 Australian Open, where she lost to former World No 1 Serena Williams.
2004 was the breakthrough year for Sania, as she became the youngest-ever Indian, male or female, to win a Tour event and the first woman from India to capture a WTA Tour title, when she paired with Lizel Huber of South Africa to win the Hyderabad Open doubles title last February. Since then success has followed her.
She continued her good form in the new year, producing a string of upsets after making it to the Australian Open as a wildcard. First she accounted for Australia's Cindy Watson 3-6, 6-3, 6-0, and then stunned former World No 30 Petra Mandula of Hungary, winning 6-2, 6-1.
Thought she went down to the younger of the Williams sisters 1-6, 4-6 in the third round, she earned the applause of her famed American opponent after she made her scamper and struggle in the second set.
'Serena was very happy to see someone from India coming up. She wished me all the best. She said I am very young and hoped to see more of me in the near future,' she said after the event
Candidly admitting that she does not have a boy friend, Sania says, "It's not the right time to have a boy friend. It's time to focus on my game and not worry about guys."
The teen tennis sensation spoke to Contributing Sports Correspondent Harish Kotian in Mumbai immediately after her return from Australia.
How was the experience of playing in a Grand Slam tournament for the first time?
It was great!
It was a successful first Grand Slam for me. Playing Serena Williams was a great feeling, a great experience and a greater learning experience.
How huge is the pressure of playing a Grand Slam compared to ITF tournaments?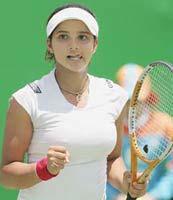 When I am playing a Grand Slam there is actually no pressure on me because no one expects me to win the Grand Slam. But when I am playing an ITF tournament everyone expects me to win. There was actually no pressure on me, but just more of excitement and anxiety that got me nervous when I was playing Serena.
When were you more nervous at the Australian Open? Playing the first round, which was your first match at a Grand Slam, or your third round match against former champion Serena?
It's a very tough question, because I really don't know.
When I went out on to the court to play the first match I was quite nervous also, but I didn't have butterflies in my stomach the previous night.
But playing Serena, I must admit, I did have butterflies in my stomach.
How difficult was it playing the former World No. 1 as compared to other players?
I think she hits the ball harder than most of the players. It's not that it blows you off the court or anything, but she has a much bigger serve and she just looks so big that you get a little intimidated.
Besides that she is a very nice person; she had some very kind words for me after the match.
What are your views on the current women's tennis scene in India? Do you think there are others players who can make their mark on the international scene?
There is a lot of talent in India that just needs to be nurtured. The All India Tennis Association is trying very hard to develop new talent. The government is also trying hard and helping financially with whatever they can.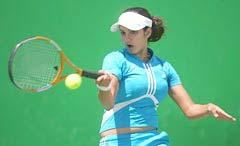 It is just a matter of being a bit more patient. We have been patient all these years and I am sure we can do it for a few more years now.
A WTA event is being held in Hyderabad next month. How much will this event help in promoting tennis in India?
I think tennis in India is already promoted so much. I was reading an article other day that said, 'India is glued to another ball game', which is really nice.
Cricket in India is like a religion. Another ball game like tennis catching the imagination of the people is really a big thing. I think it is really gonna promote tennis in India.
Already India is becoming a tennis nation; soon, hopefully! I am really very excited about the whole thing.
Will you still consider playing doubles and mixed doubles in future?
Yes, definitely. If I get a chance I will definitely play it, but I have to work things out there.
If you consider mixed doubles and have to choose a partner between Mahesh Bhupathi and Leander Paes, whom would you opt for?
(laughs) I don't know.
I wonder if they would like to choose me, first of all. It's not my call; it's mixed doubles, so even they will have to see whom they want to play with.
Suppose if both of them are open to playing with you then what would your choice be?
Why don't you call them and ask them first; then I will answer your question.
PHOTOGRAPHS: Jewella Miranda and Getty Images