Sania Mirza finally got a first-hand experience of what life at the top of the tennis world might be like when she took on the might of seventh seed and former champion Serena Williams at the Australian Open on Friday.
However, Serena was in no mood for games and quickly quelled the challenge from the rising Indian teenager to reach the fourth round at the Open with a 6-1, 6-4 victory.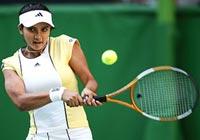 A first serve percentage of only 33 made it very difficult for Mirza to compete in the first set against the powerful all-round game of Serena.
The score progressed very quickly to 5-0 and it looked as if Mirza might not get onto the board at all. But then she finally managed to hold her serve and a smile creased across her face in relief.
Serena, who is yet to lose a set at this year's Open, looked in complete control upto this point and closed the first set in 20 minutes.
However, the second set was a completely different story. Having won a game, Mirza's confidence came flowing back into her game.
Her first-serve percentage went up and that resulted in her winning two easy service games.
She earned three break points in the fourth game of the second set but Williams saved them all with good serves and leveled the scores at 2-2.
Mirza was matching Serena shot for shot and the American now had to produce her best tennis.
The biggest difference between the two players at this point was the serve. Serena has one of the most powerful serves in the women's game, while Mirza's is very much a work in progress.
Serena broke Mirza in the seventh game to go up 4-3 in the second set.
Serena then held her own serve and held two match points on Mirza's serve. Mirza saved them both with some powerful groundstrokes and then went on to hold the game.
But the American still led 5-4 and served for the match. The American went up 40-0 in her service game and quickly closed the match with her 12th ace and moved into the fourth round.
The second set lasted 36 minutes.
Both players committed 18 unforced errors but Serena had 26 winners as compared to Mirza's 11. The Indian failed to convert any of three break points she had but Serena converted three out of six and ran out an easy winner.
Mirza may have lost the match but she showed enough resilience to prove to herself and all those watching that she belongs in the top tier of women's tennis.