As the WTA championship begins in Hyderabad on February 7, Sania Mirza's father Imran Mirza and her mentor Krishna Bhupathi join India's latest sporting star in discussing where she goes from here.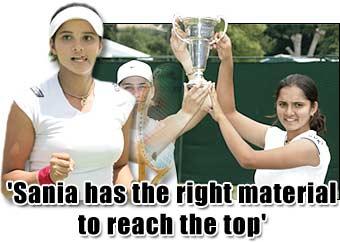 If we were to do it all over again, I am not sure we would be able to do it," says Imran Mirza, father of India's teen tennis sensation Sania Mirza.
"Even if we had worked quite so hard another time, I am not so sure we would have even succeeded! You just go out there and keep trying your very best. Finally, you have to be destined to get there, that's all! I think Sania has a good destiny!"
The tall, lean Imran was talking about the difficulty in organising the kind of support and finance a young tennis champion requires in India.
"Sania should ideally have Rs one crore [10 million] a year spent on her training and playing," says Sania's mentor Krishna Bhupathi. "If she can eventually raise this amount of money through prize money and endorsements, that would be wonderful."
Sania Mirza:India's new sporting star
Not surprising, then, that the Mirzas have decided not to get their younger daughter Anam, 11, into tennis or any other equally demanding sports interest.
"We could not have done justice to either of them, then," says Imran.
Either he or his wife Nasima always accompanies their 18-year-old daughter when she is out of their hometown, Hyderabad, but because of the Haj pilgrimage to Mecca, both were not present to watch her exploits at this year's Australian Open, when she made the third round, where she lost to eventual winner Serena Williams.
| | |
| --- | --- |
| | Also Read |
| | |
"It is not easy to be a girl playing serious tennis," says Imran. "Being an Indian girl, we have never allowed her to travel alone. That has put additional pressure on us; either me or my wife have to constantly travel with her. We have to find time for that away from our business. We have had to compromise on our own career and other goals. This takes precedence over everything else."

How long do they hope to continue doing this?

"We have managed it so far; I guess we will continue doing this as long as Sania plays," says Imran stoically.

Is being a tennis champ a hard life?

"Definitely," admits Sania. "You make a lot of sacrifices and have to do a lot of travelling. It is very hectic. Your days are very full. I begin my day at 5.30 or 6 am, and wind up only by 7.30 pm. It's a very tough life, being a tennis player."

"When she was in the fourth, fifth and sixth standards, Sania was a brilliant student," says Mirza.

"She hated missing even a single day of school to travel around to play tennis. She has had to compromise on that now, and come to terms with being just a mediocre student. Her learning now comes from travel and the experiences she gains all over. She has already travelled to over 35 countries, which very few 18 year olds would be doing. It does affect her social life. She didn't have too many friends in school, but has many friends on the circuit who have broadened her horizons."

Interestingly, Sania says that players on the international tennis circuit are also very supportive of new, young players.

"I was 13 when I began. My first trip out was to Pakistan, and it was very good experience. Everyone was really friendly. In Western countries, people are equally friendly, in England and all. But there are some people who are really focussed, and they don't talk. It's a part of your career."

"Academics, I have managed till now," says Sania. "My school was really cooperative. I had to concentrate a lot on my studies, and it was certainly not the same thing as going to school every day. As for my social life, I definitely cannot do all the things I want to do. But I do once in a while go out for lunches. It is a lot of sacrifice, but it's all worth it in the end."

Imran admits the family has had to make a lot of sacrifices.

"Our lives have changed totally from what they were before Sania became a tennis star," he says. "We have very little family time together. We put everything into the days we are together, because we know it is not going to last! We have had to totally compromise on our personal goals. Thankfully, we love tennis enough to enjoy what we are doing with Sania, and we don't find it tiresome. Not every parent probably goes the distance we go to make Sania lead as normal a life as possible when she's home and going to friends' birthday parties."

How did he and Naseema decide that tennis was the sport for Sania?

"We had a lot of cricketers in the family," says Imran, looking back at how Sania began playing tennis when she was a small girl.

"Being a girl, we thought cricket was not the game for her. So we tried her out at tennis. It was obvious, immediately, that she was very good at it."

Once they discovered that the Mirzas began trying to see how best they could build Sania into champion material.

"As we came from a sporting background, we knew very well the kind of pressure that build up in competitive sports, particularly at an international level," says Imran now. "So we tried our best to toughen her up mentally. Right from Day 1 we tried to teach her that as long as she was doing her best on the court, winning and losing did not matter. I think that a major role we played in her evolution was to build the right match temperament in her.

"Parental support is very important in this area. Kids don't mind what others say, but when parents criticise them, it really hurts them."

Sania makes no bones about the secret of her success thus far.

"If you don't have match temperament, you cannot win matches," she says, slumping down into a chair beside her father. "And if you do not have a killer instinct, you cannot win either. You cannot just say, 'okay I lost this match, maybe I will lose the next one too', and just give up. If you don't know how to win, there is no point practising eight hours a day."

The obstacles along the long road, from average tennis player to champion, are too many to count.

"Sponsorship is a major problem in India," says Imran. "Sania has been fortunate that she found the right backers at the right time: the GVK group recognised her talent before she was even known in India. They were perhaps the first sponsors to have backed a junior. That is when a player really needs support, not when he or she has already made it. The All India Tennis Association helped her a lot too, at one point. The press too has played a major role in the development of Sania; they have been truly supportive.

"Sponsors need to know that a player has potential before they come in, right?"

The Andhra Pradesh government too, he says, has been financially supportive.

"When Mahesh (Bhupathi) was playing, we had to run to the Middle East and Far East or the US to make the necessary points to make a mark on the international arena," says Krishna Bhupathi, Mahesh's father.

"Mahesh had to work for ten years to get there. Nobody knew because he was keeping a low profile. Plus, he was not a hot junior: he never won the junior Wimbledon or many junior titles. He only blossomed as a senior."

Facilities in India are certainly not up to international standards, but Imrans feels "if you have the right talent, and the will to win, that makes up for a lot in terms of the lack of facilities".

"Coaching levels have improved from the days when Sania was starting. As parents, we too have to monitor them carefully, and learn a lot along the way. You have to decide which coaches will suit your child best. You have to be in the heat of things all the time, so to say," he says.

"Tennis is a very expensive game, and there is so much talent in this sport in India that needs to be supported," says Krishna Bhupathi.

"There are many players who can reach a high level nationally or internationally. We need this depth of good players, even if none of them becomes a Leander Paes or a Vijay Amritraj. Only if there is that depth can India ever hope to produce a home-grown (Pete) Sampras."

The fact that Krishna Bhupathi has seen what Mirza describes as "top level tennis" has made a definite difference to Sania's playing style over the past three years that she has been under his guidance.

"He has made minor changes in her playing that have made significant differences to what she needs to do to win at the highest level," says Imran.

Bhupathi says tennis coaching has been pretty much the same from the days of Ramanathan Krishnan and Ghouse Mohammed.

"The attitude of the Indian sportsperson has changed," he says. "Whether it Mahesh, Leander or P T Usha, they know that they can go right to the top."

Surprisingly, Sania has not followed any kind of special diet so far. She herself admits to being very fond of meat and eating it at almost every meal.

"A dietician told us that for the kind of physical effort Sania was putting in, what she eats is almost perfect," says Imran. "She has been naturally gifted with an appetite that seems ideal for her."

How does Imran see Sania's future?

"Sania has the right material to reach the very top," he says. "We are hopeful that she will get there. We just have to give her time. There is a big difference between the senior and the junior levels. There are no guarantees on the international tennis circuit."

Does Sania ever wish she had opted for some other kind of life?

"Sometimes I wish I could have done some other things too, but well, that's okay," she says. "I have always enjoyed the game and enjoyed competing. I get to see so many people, meet so many different kinds of people. I am glad I made life in tennis."

However, Bhupathi says that a lot of girls have come into tennis over the past couple of years. "Girls' tennis is definitely coming of age in India," he says. "It's too early to calculate the exact impact Sania has had on women's tennis in India. But we already have at least 35 per cent of the students of my tennis academy in Bangalore as girls."

Still, as Bhupathi rightly puts it, "In India, there is cricket, and there are other games. We wish the cricketers well; we hope they make a lot of money. But we wish our tennis players could make some money too!"

Headline image: Imran Shaikh