Serena Williams posted the expected tennis result in her opening match at the U.S. Open on Monday but the style-conscious former champion fumbled her first fashion test in the secondary battle of the boutiques.
Williams failed to keep her $40,000 diamond chandelier earrings in place.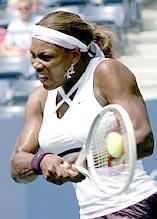 Her right earring fell off early in the first set and she later removed the other one to concentrate on beating Taiwanese 16-year-old Yung-Jan Chan 6-1, 6-3.
"Well, one fell," the two-time winner in New York said.
"I didn't put it on tight enough because I was rushing to go out (on court)."
Williams played several games with just her left ear adorned with the dangling diamonds before finally removing the earring and handing it over temporarily to a ball girl who dutifully returned it to her during a changeover.
Two other prominent women's players were also dressed to kill as the year's final grand slam event got underway.
Older sister Venus, who like Serena, designs outfits, wore a breezy purple tennis dress and a necklace of pearls and turquoise during her 6-3, 6-1 trouncing of Japan's Rika Fujiwara.
Venus, also a two-time U.S. Open champion, later asked reporters what Serena had worn.
| | |
| --- | --- |
| | Also Read |
| | |
"I saw them," she said when told her sister wore the $40,000 earrings. "She told me they were real. I guess I shouldn't expect anything less from Serena Williams."
The opening night programme at the National Tennis Center featured top seed Maria Sharapova, who pummelled Eleni Daniilidou of Greece 6-1, 6-1 and unveiled a new tennis design for the occasion, a baby blue dress with yellow borders and piping over short yellow cycling pants.
The 18-year-old Russian, the 2004 Wimbledon champion, had a busy week in New York in her marketing run-up to the Open, introducing a new perfume and watch along with her tennis dress.
Serena wore a simple purple and white tennis dress on Monday, leaving the glamour statement to her jewellery and the seven-time grand slam winner remained undeterred by her bauble bobble, insisting she would bring the "bling bling" back on court.
"It's a lot of bling to play with," she admitted. "You got to have the bling."