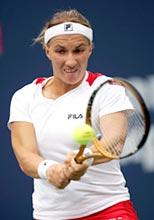 U.S. Open champion Svetlana Kuznetsova, it seems, is not a big name in New York.
While her carefully marketed Russian compatriot Maria Sharapova, whose best U.S. Open performance was reaching the third round last year, enjoys celebrity status wherever she goes, Kuznetsova's reception has been very different.
"I went to buy shirts the other day and lots of people were saying, 'Oh, this is the girl, she won last year'," said the 20-year-old fifth seed who starts her title defence against compatriot Ekaterina Bychkova on Monday.
"Sometimes they go, 'What's your name?' 'm like, 'Uh...' and I find it difficult to say anything. I say 'Kuznetsova' and they say 'What?'
"So I just say, 'Okay, whatever. Just forget it."