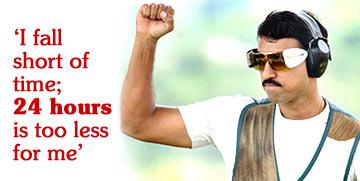 It came as no surprise when Rajyavardhan Singh Rathore was selected for the country's highest sporting honour -- the Rajiv Gandhi Khel Ratna -- for 2004.
Exactly a year ago, the unassuming hero had lived a nation's dream by finishing second in the final of the men's double-trap shooting at the 28th Olympiad and winning India's only medal at the quadrennial sports jamboree.
Before that magical evening in Athens few knew about the major from the Indian Army; what followed was instant stardom.
In an exclusive interview with Special Correspondent Harish Kotian, Rathore, who has since been promoted to lieutenant colonel, discusses how life changed after Olympic glory.
It's been a year since winning the silver medal at the Athens Olympics. How much has life changed since then?
If at all life has changed, it is in terms of the availability of time, which has reduced drastically. As it was in the preparations for the Olympics, the time spent with the family was ever reducing because of the long hours of training. Now after the Olympics it's also due to training.
I can see an increase in the quantum of training; if I would compare it to pre-Olympics, I think it is nearly double of that.
Right now we are in the first year of post-Olympics and we still have another three years to go for the next Olympics. But the intensity of training has increased a lot, and I am very happy for that. So the time spent with the family has further decreased, which is also because of some other things, like the time I spend talking to the media. So because of these two reasons, time is at absolute premium; this has changed the most.
How different is the training now as compared to a year back?
I was a rookie pre-2004 Olympics, as I had just started. Normally people spend at least 10 to 12 years before they start giving top international performances. So my time spent in shooting was very, very less compared to all the top athletes; that's why I am saying I was a rookie before 2004.
But now I know what has to be done and how much hard work needs to be put in a sport where every mistake is counted. It's not like volleyball or basketball, where if you make an error your opponent also makes an error.
In shooting any error that you make is immediately put on the board, and these days the margin of error is reducing because of the number of competitors around the world and the very high professional manner in which they (other shooters) are training.
So, therefore, if you want to continue giving high results, you have to be in training. Now, since I know what training it is that I need to put in, I am putting as much time as possible; I am giving it my best.
Everything else remains the same for me. I am the same person, having the same friends, the same belief.
Can you tell us about some memorable moments after winning the silver medal?
Most of these moments have to do with emotions being displayed by the people. There cannot be different episodes from anywhere else, but it was generally to do with the emotions of the people.  The way I was received at the airport, the way students or some corporates listen to me when I really get in to the mood of talking, when my thoughts flow without of hesitation of where I am speaking. That's when they feel thrilled about listening to me and are full of praise and support. That's been the most memorable part of my victory, especially comments like, 'You have done us proud' and 'We can hold our head high'; all these things are absolutely wonderful!
The point is that when you train for a long period, especially in our sport, there are less materialistic things in it. If you compare it to cricket, tennis, boxing or golf, there isn't huge amount of money as prize-money. Compared to that, our sport has more of respect; the national flag going up, the national anthem playing, you wearing the national colours, because you are truly representing your country and you are not a professional.
The feeling of the people when you win or lose -- that's the highlight and the best part of this sport.
And which were the most embarrassing ones?
Everything went on very well; there was nothing wrong spoken. But a particular incident that I still remember is one which happened at the airport when I returned from Athens.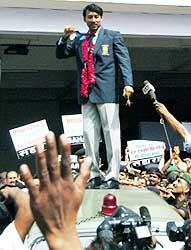 There was confusion that took place at the airport. The National Rifle Association and the sports ministry had organised a big press conference at the airport after consulting me. The Army, on the other hand, works with its own motives. The Army had planned that they would immediately take me out of the airport and take me straight to the Army Chief's office.
So, at that place, the Army was trying to take me out, while the press and public were trying to stop me from going. So there was a huge tussle that was taking place between the Army and everybody else.
Finally, I realised that there is no way out if you don't speak to the journalists and the people who had come to receive me. And the only place where I thought of standing was the top of a Gypsy (the Maruti vehicle). I told the Army guys that there is no way they would let me go, so I must get on top of the Gypsy and talk to them. So that is how the pictures of me on top of the Gypsy came out.
Later people asked me, 'What were you doing on top of that Gypsy with a sea of people around you?' (laughs)
Another incident that comes to mind was when the chief minister of Rajasthan called me for a reception at Jaipur. Well, I normally thought we would have the reception at Jaipur, so I would go to my house, change and then go to Jaipur and meet the chief minister.
But the moment I reached the Rajasthan-Haryana border the reception started. The reception party met me there and took me around to meet people en route to Jaipur, which is about 200 km away. We started at 10 in the morning and reached Jaipur at six in the evening.
Now I am not a politician, but everywhere I went I was garlanded and given a microphone to speak. Everyone wanted to hear me, and there were groups of 30 to 40 people at all the places I visited. That was something I was not prepared for.
Do you think your silver medal has helped the sport of shooting in India? Has the government come forward and tried to improve facilities?
It has to be seen on two fronts. I have always stated that the entire Olympic movement in India is alive because of government support, and that stands true. And I further can say that a lot that I have achieved is courtesy due to the funding provided by the government.
Yet, a lot needs to be done to improve not only the sport of shooting, but other Olympic sports also. The progress towards improvement is slow and at this speed it will take us ages to win the number of medals that India should actually be winning.
A lot of things need to be done, and need to be done faster. There are a lot of policies, a lot of directions, which are in place, but the execution is lacking.
What improvements need to be carried out in shooting so we can do well at the 2008 Olympics?
As far as the 2008 Olympics are concerned, I think the plan should be very, very clear and simple. 2008 is just three years away and in three years you cannot churn, or rather you cannot catch people young, train them and make them Olympic champions.
To do well in 2008, you must already have some of your shooters who are at the top international level, and who you feel have the potential and age to do well in three years' time and thereafter. Give these select few people the funding that they need, have somebody responsible for producing results out of them.
What I mean is that there should be a set of people who should be entirely coordinating with these top few shooters where they want to train, how they want to train, with whom they want to train, which competitions they must shoot as training and which competitions they must shoot to win.
If they are having problems at home those problems must be sorted out, because sportsmen, especially shooters, would not be able to concentrate if he has got a family problem. If there are any administrative problems, then the government can easily solve them.
For example, it could be related to somebody's posting. An athlete may not be happy at the Railways; then move him to where he wants, because this is for a national cause. This is just giving an example of how the government can come forward and help.
It has to be a concentrated effort behind a select few shooters as far as the 2008 Olympic Games and the 2010 Commonwealth Games is concerned.
Do you think we have shooters who can win medals in 2008 at Beijing?
I will feel very happy to name these shooters, because they are doing well and will do well in the future. Let's start with rifle: Gagan Narang from Hyderabad is a very good shooter and he will do well.
Abhinav Bindra should do well, so will Suma Shirur from Mumbai.
Poornima Gawhane, a rifle shooter, is an up and coming shooter and one for the future; Deepali Deshpande is also doing very well.
Zoravar Singh Sandhu, in trap, is a very good shooter. He recently did well in the World Cup in May this year, finishing fifth, which is his best-ever finish at a World Cup.
Manavjit Singh Sandhu, in trap, is also another good prospect. Amit Singh, in skeet, will also do well.
And what about Anjali Bhagwat?
The reason I am not mentioning Anjali's name is because she has taken a break from shooting. I don't know why she has taken a break, but it could be because of personal reasons. So I am not sure for how long she is going to take a break; but if she comes back she is a great potential.
There were reports some months back that you would do advertisements and promote products? What is the latest on that?
I still haven't got the permission. It's been a year now, but I understand why I haven't got it. To some extent I do understand it, because this is the first time in the history of the Indian Army that a serving officer would be permitted to do commercials, permitted to appear on television.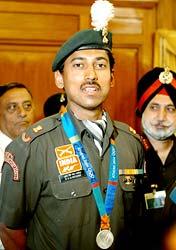 It's a great step forward. It has taken more than the time it should have, but everyone feels positively about it and that's why I am happy.
I think this week I should get it (the permission), and that's the great part. Lot of people still tell me that you should have started straightaway doing endorsements, but I have no regrets. I have got good commercial offers, with huge amount of money.
I think it was good of me, becoming an officer and a gentleman, especially from the Indian Army, to follow the rules to the best of your abilities. Money wasn't going to lure me into breaking the rules and the code of conduct.
Like a good soldier I waited it out and my efforts are going to bear fruits now. If you ask my choices, I would not do advertisements, like alcohol and tobacco, that lead the youngsters astray.
You were honoured with various civilian awards during the last year. You were selected for the prestigious Padma Shri and also received the Ati Vishisht Seva Medal -- the second highest military award for serving officers. How did it feel?
It's undoubtedly a great honour receiving such a high award from the President of India. Receiving both the awards -- Padma Shri and the AVSM -- felt very nice. It is a great feeling to receive recognition for all the efforts that you have put in.
Lot of people still ask me, 'How many hours do you train?' I always tell them: I fall short of time; 24 hours is too less for me.
I am gradually cutting down my sleep, which is not good because you need to recover, recoup your energy. In Delhi, lot of my time is consumed in travelling, which is the biggest waste of time.
These awards are fantastic and you feel good because there have been many, many months and many, many hours when you trained alone against various odds. There is a huge amount of risk, as there is very little at the end of the tunnel in terms of materialistic gains. But if you do well and the country feels proud of itself, that's when these honours start coming. They are not the goal, certainly, but they are good encouragement to carry on giving your best for the country.
How has your role with the Indian Army changed after the Olympics? You were promoted to lieutenant colonel. What additional responsibilities has it brought along?
No, my role with the Army has not changed. People feel that I have become a lieutenant colonel; well, that's only because the Indian Army wants to become young. All my batch mates have become lieutenant colonels together. The Indian Army does not promote officers based on sports performances. Officers will get promoted only because of their normal routine career advancements.
This is the first instance in the Indian Army's history that an officer below the rank of brigadier has been awarded the country's second highest military medal in the distinguished services series. The highest award is the Param Vishist Seva Medal.