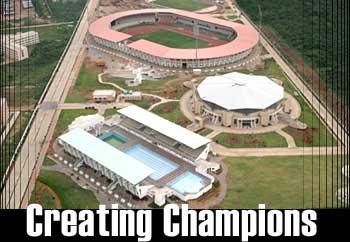 Reckon India does not have what it takes to produce a Wimbledon winner, an Olympic champion? 
The Brandenton, Florida-based IMG Academies, arguably the best-known multi-sport training facility in the world, is betting it can. Betting big -- $120 million big. 
On Wednesday, June 16 morning, at a function at the Asia Society in New York, project chairman Andrew Krieger will formally announce the setting up in Hyderabad of IMG Bharata, with an initial investment of $120 million. 
This will be the first ever occasion that IMG has duplicated its operation outside of the Florida home base; the first IMG training facility outside North America. 
"The time is right," IMGB's chief marketing and sales officer Alfred L Schreiber told rediff.com, ticking off the reasons why:
India is beginning to take sports seriously. The AP government for instance puts its official weight behind creating state of the art infrastructure for the late-2003 Afro-Asian Games

Latest surveys have found that most adults polled said they would play sport, if adequate athletic facilities were available

The number of households with cable television has grown 100 percent over the past ten years

Over 93 per cent of Indians consistently watch some form of sport on television

The sports marketing and event planning industry is already estimated at approximately $120 million and growing, at 25 to 30 percent a year

The number of sports/leisure facilities has increased 40 per cent over the last five years

With the entry of multinationals like Coke, Pepsi, Kodak, Sansui, Electrolux, Samsung and the like, sports sponsorship has increased manifold.
"It's all there, the climate for change, the conditions for the big push," Schreiber says. "It just needs someone who knows what they are doing, to set up the system and to make it work."
Where, What, How
The IMGB Academy, spread over 400 acres (a little over twice the size of the Florida flagship, which sprawls over 190 acres) will broadly be divided into training facilities for specific sports, and support infrastructure.
In the first phase of the project, the sports academies going up will be duplicates of IMG Florida's Nick Bollettieri Tennis Academy, the David Leadbetter Golf Academy; the IMG Soccer, Basketball and Swimming and Diving Academies; and the IMG Track and Field Academy.
Given the national passion for the game, IMGB will also put up a cricket stadium, surrounded by gyms, training facilities, dormitory facilities, high-tech rooms for video replays and analysis, et cetera.
Support infrastructure will include:
The International Performance Institute Gym, which provides the latest in training facilities coupled with cutting edge software to manage the individual athlete's development

The IMG Medical Centre, specialising in sports medicine services for alumni and visiting athletes, with areas of specialisation including orthopedics, physiotherapy, chiropractic, dentistry, internal medicine and general medicine

The High Tech Centre, the heart of the training program, equipped with the latest in computer and video technology, providing playback and analysis facilities and the entire range of technical infrastructure support for sport

The Mental Conditioning Centre, modeled after the Florida version, specialising in sports psychology and designed to help athletes develop the psychological and emotional strength needed to compete at the highest level.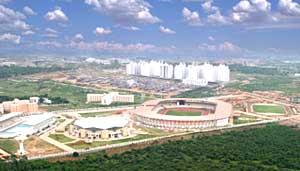 Surrounding this will be a resort and spa that, Schreiber says, will combine the best of Eastern meditative qualities (read yoga, ayurveda and assorted branches thereof) with the West's love for comfort, and dormitories designed like luxury hotel suits, incorporating the latest in luxury with the latest in technological and communications equipment, to supplement the athletes' work in the official facilities.
To cater to the educational requirements of the wards, the complex will also include an educational facility with a curriculum devised in accordance with the American pattern of study, and to American standards.
The complex will incorporate within its overall structure the existing sports stadiums built at Gachibowli for the Afro-Asian Games, via a 45-year lease to be signed with the AP government. The MOU will also give IMGB control over the Lal Bahadur Tennis and Cricket Complex; Osmania University's Cycling Velodrome; the KVBR Indoor Stadium in Yousufguda; the Indoor Stadium in Saroornagar; and the University of Hyderabad Shooting Range.
The showboat centerpiece will be a sprawling, world-class golf course ringed by a luxury resort and training, convention and entertainment facilities.
And all this is Phase 1. Phase 2 will look to add more training facilities for more sports, together with the required infrastructure support. Also in phase two will be the construction of a mixed-use office tower with retail, shopping and commercial space, and high-end housing. Phase 2 will also include the construction of additional golf courses, and two five-star airport hotels.
Who gets to go?
Anyone. Notionally, says IMGB chairman Andy Krieger, the academy looks to service South Asian athletes - but there is no bar on any athlete, from anywhere in the world, taking advantage of the facilities.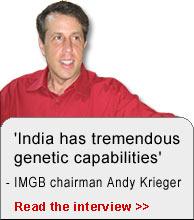 Initially, Krieger says, the Academy looks at 350 full time students; that number could reach a peak of 1,200 when the academy is fully functional.
"You can't think of it like a conventional college or academy, with a specified number of students," Ted Meekma, senior vice president and co-director of IMG Florida, told rediff.com
"For instance, in our Florida Academy we have 600 full time trainees, or students, whatever you want to call them -- but over 11,000 go through the doors each year."
"What is important to remember is that we don't do just one program, we offer a whole menu. The centerpiece of course is the full-time academy, for training promising athletes in various disciplines. Numerically, this is probably the smallest component; the students go through a nine-month school year, with a curriculum that combines academics with high-intensity practice in their chosen sports disciplines. Typically, I would expect a student to go through a four-five year school program before he 'graduates'."
Then there are the weekend sessions, Meekma says, that are open to all - if you are interested in a sporting discipline and indulge even at an amateur level, you can book yourself in on weekends and get the benefit of the same coaches, the same tech-infrastructure, the same facilities as the star pupils. Besides, short-term courses will also be built in, for those who want to put themselves through a quick, intensive training program in their chosen discipline.
The full-time students pay their own way - or more typically, are funded by government grants or corporate sponsorships. "I'd estimate between 90-95 per cent of all our full-timers in Florida have the benefit of some form of corporate scholarship," Meekma says. "I'd expect to see the pattern duplicated in India."
When does it kick off?
The project germinated in June 2003, when IMG honchos first conceived of the idea of setting up a parallel operation in India.
In August of that year, Krieger met with then Andhra Pradesh chief minister N Chandrababu Naidu and members of the AP government to finalize the MOU that got the project up and running.
In January 2004, IMGB brought on board Peter Pivko, a 30-year architecture veteran, to oversee development of the complex. Simultaneously, it hired Arcop as master planner architects, and the award-winning firm Arquitectonica as lead design architects. It also veteran golf course designer Brit Stenson to design and lay out the championship golf course to international specifications.
In February 2004, a foundation stone-laying ceremony was conducted in Hyderabad; earlier this month, the master site plan was finalised -- the June 16 official launch of the programme pegs itself to this.
Work is scheduled to begin almost immediately; best estimates indicate that the IMGB will be fully functional and ready to open its doors to its first batch of students in September 2006.
Will the Florida model work in Gachibowli?
Ted Meekma, the man who is hands-on in Florida, believes it will.
"First," says Meekma, on phone from his Florida headquarters, "you have to remember that prior to our setting up the IMG Academies in Brandenton, the US didn't have anything like this either. So yes, we are used to setting up in new, untried markets, putting down roots, and making our module work."
But there are existing sports academies in India, even if not all in one place. Wouldn't IMG coming in be essentially a reinvention of the wheel? Wouldn't a less expensive trick be to figure out how to make the existing wheels run?
"Not really," Meekma says. "Our USP is what we do and how we do it. We intend to continue with that; I personally don't believe in reinventing that wheel, creating an 'Indian model'. We bring to the table what we do well, what we have done consistently well over the decades of our existence - there is no sense in our modifying to the Indian pattern, whatever that may be. Yes, we will have to develop working relations with existing sports bodies - but within the IMGB, what we do will be according to our proven model."
As is? No changes, no adaptations?
"No, you have to be realistic, there will probably be cultural adaptations that are required, not so much in the training methods themselves, but for the coaches, the staff, who will be living and operating in what for us now is an alien environment. I can't tell you at this point what those adjustments may be -it is hard to do demographic studies on something of this kind, since it hasn't been attempted before."
"But granting it is the first time we are duplicating the Florida model outside of the US, we have, in various countries, set up smaller operations, centered around a specific need or a specific sporting requirement of that country. And in each of those instances, we have had to adjust to the host culture, and we've done that and made it work, so we know we can do this."
So with just eight days to go for official launch (NB: This interview was done June 8), what's the gut feel going into untested waters?
"We believe we have a few things going for us. First, we have brand value - everyone knows IMG Academies, everyone knows the work we have done, the champions we have produced in various fields."
"Second, we have a tremendous pool to fish in - literally millions of people. Statistics show that in India today, over 500 million people are under the age of 25. Our pattern indicates that the best age to begin intensive training in a particular discipline is around 10 - with that training lasting from five to six years to produce the finished article. Given the predominantly young Indian population, you are talking of millions of people in our target age group - the material is there, it is now up to us to build on it, to deliver."
"I would say, bottom line, we are intrigued, we are challenged, we are excited to be going into India - but we are not necessarily concerned."