Unheralded Briton Danny Williams produced one of the biggest upsets in the history of boxing when he knocked out former world champion Mike Tyson in the fourth round of their heavyweight fight on Friday.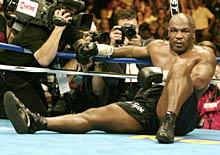 Tyson dominated the opening round but Williams hit back with several crunching blows and slowly began to take control against the 38-year-old American.
Williams, 31, landed with a stream of thunderous rights in the fourth before sending Tyson to the canvas after two minutes 51 seconds.
Referee Dennis Alfred halted the count to usher Williams back to his corner before stopping the fight as a groggy Tyson could barely get to his feet.
BOXED SMART
"I showed I am a warrior," Williams told U.S. television. "He hurt me for a few seconds in the first round but I came back and boxed him smart.
"I was sure I was gonna win. I knew I had the capability of beating him."
Williams, however, said he expected Tyson to ask for a second crack at him. "I know he's gonna want a rematch," said the Briton.
Tyson (50-5-2, 44 knockouts) came charging out at the start of the contest with a flurry of punches which sent Williams reeling.
But Williams rallied in the second, swapping blows with his opponent and landing several rights to Tyson's head.
Williams was twice cautioned by Alfred in the third round, the first time for hitting after a break and opening a slight cut over Tyson's right eye, and the second for an apparent low blow.
But he continued to engage Tyson in several close-in battles, trading punches with the former champion for most of the round.
Williams (32-3, 26 knockouts) took over in the fourth and, with a shocked crowd of 17,273 mostly Tyson fans looking on, pounded the American into the ropes late in the round.
On the undercard, Laila Ali, fighting in her famous father Muhammad's hometown, maintained her unbeaten record by stopping super middleweight Monica Nunez in round nine.
Ali is now 18-0 with 15 knockouts.