Ace Indian shooter Rajyavardhan Singh Rathore provided the silver lining to India's dismal showing at the Athens Olympics when he finished second  in the final of the men's double-trap shooting event at the 28th Olympic Games in Athens on Tuesday.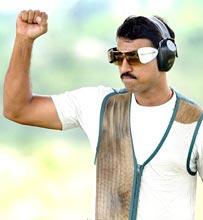 The 34-year-old army major's score of 179 (135 in qualifying and 44 in the final round) gave him the silver medal, India first individual silver ever at the Olympics.
Rathore scored 44 out of 50 in the final round.
Sheikh Ahmed Al-Maktoum of the United Arab Emirates was a class apart from the rest of the competitors and took the gold medal, scoring 144 in the qualifying round and 45 out of 50 in the final round.
China's Wang Zheng won the bronze, scoring 178 (41/50)
"I just can't describe this moment. I have no words. It is a fantastic feeling," said Rathore, immediately after achieving the rare feat.
"To win a medal in the Olympics is the dream of every sportsperson. I am glad that I could do it.
"I always knew I had a chance but I needed to perform in the final. Fortunately, everything went well for me," he said, adding "I may have appeared calm inside, but I was dying a thousand deaths out there."
Earlier, Ahmed Almaktoum topped the qualifying list with 144 points (an Olympic record) while Hakan Dahlby of Sweden and Zheng Wang of China were second and third respectively.
Rathore qualified for the final round after finishing fifth with a tally of 135 points (46, 43, 46) from three rounds in the preliminary stage.
The only other athletes to ever win individual medals for India at the Olympics are Khashba Jadhav, in the 1952 Helsinki Games, Leander Paes, at Atlanta in 1996, and Karnam Malleshwari, in Sydney 2000. All won bronze medals.
(Men's double trap 150 targets - Qualification round)
1. Ahmed Almaktoum (Uae) Points:144
2. Hakan Dahlby (Swe) Points:138
3. Zheng Wang (Chn) Points:137
4. Waldemar Schanz (Ger) Points:135
5. Rajyavardhan S. Rathore (Ind) Points:135
6. Binyuan Hu (Chn) Points:134