Audio

A Grand Slam title at 16 is truly the stuff of champions.
Sania Mirza, India's teenage tennis sensation won her maiden Wimbledon and Grand Slam title when she triumphed in the girls' doubles event, partnering 13-year-old Russian Alisa Kleybanova.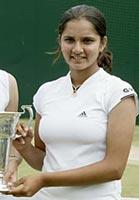 A good friend of Kleybanova, the Hyderabad lass will be teaming up with the Russian for future tournaments on the international circuit though they will not play together at the US Open.
"She is still young, only 13 years old," said Mirza, speaking about her partner.
"It is a dream win. We just met a week-and-a-half ago and we were like 'you wanna play doubles', and we combined really well and beat the top seeds. After that we didn't look at the draw."
The Indo-Russian pair upset top seeds Jarmila Gajdosova of Slovakia and Andrea Hlavackova of the Czech Republic in the first round and did not look back after that.
"We knew we had a chance. One was ranked two and the other was ranked three in the world in the first round. And definitely it was a dream, because it is at Wimbledon of all the Grand Slams. It is a very special thing in tennis," added Mirza.
In the final, Mirza and Kleybanova lost the first set to the pair of Katerina Bohmova of the Czech Republic and Michaela Krajicek of the Netherlands before rallying to take the next two sets and snatch a 2-6, 6-3, 6-2 victory.
Incidentally, Mirza, partnering Sanaa Bhambri, had lost to Bohmova and Krajicek in the semi-finals at the French Open.
It was after 51 years that an Indian girl figured in the final of a Grand Slam, the last being Rita Dabur, who had finished runner-up in the singles event in 1952.
A winner of 21 International Tennis Federation titles, Mirza had lost in the French Open girls' doubles semi-finals last month and in the girls' singles at Wimbledon, where she suffered a 2-6, 6-3, 1-6 defeat against Eden Marama of New Zealand in the second round.
Will she still concentrate on singles or lay more emphasis on doubles?
"I will still prefer singles. Just that I lost a close match. She [Eden Marama] is in the top 25. I could have played better. The way this tournament went I will keep playing more singles."
Of her 16 years, 10 have been spent on tennis courts.
Were they at the cost of her childhood?
"A little bit, of course, since there is a lot of sacrifice. But anyone getting the fame and name like I have would be happy. Those studying in my school are envious and asking me how I can work so hard. I guess it's a part of the parcel."
Good friends of estranged former world doubles champion pair Leander Paes and Mahesh Bhupathi, Mirza steered clear of controversy when asked if she ever suggested to them to reunite.
"I'm very good friends with them. In fact, Mahesh was there for my match. We talked a lot. Since I am with Mahesh's company, we interact a lot. I spoke to Leander at dinner last night."
Congratulate Sania Mirza | Images
Also congratulate: Leander Paes on winning the mixed doubles crown at Wimbledon.
Also read: 
- She is living up to expectations: Sania Mirza's father
- Sania-Alisa lift girls doubles title