The tall, slender girl in tiny blue shorts and a pink T-shirt raised an arm gracefully and slammed the ball down on the other side of the net. The young man on the other side simply stood back and looked on admiringly.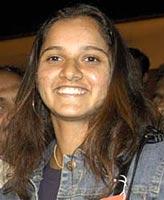 Watching junior Wimbledon girls' doubles champion Sania Mirza on the tennis courts of Krishna Bhupathi's tennis academy in Kodigehalli, Bangalore, was, in some ways, like viewing a ballet. You simply never get the feeling that tennis is actually a strenuous, sweaty, tough game. Sania makes it all look so elegant and easy.
Looking on was her caring and ever watchful father, Imran Mirza, his eyes full of dreams for his darling eldest daughter. Sania finished her game, walked lightly off the court and threw herself into a chair beside her father. Off the court, Sania is a lively, friendly teenager, who giggles when she talks about her favourite movie stars, just like any other 16-year-old would.
The Indian tennis sensation spoke to M D Riti about her steady rise in the women's ranks, her lifestyle and plans for the future.
Did you ever think you would reach where you did when you started playing tennis?
Definitely, it was a dream. Everyone dreams of playing Wimbledon and winning it. I am glad this dream came true for me so fast in my career. It feels great after so many years of struggle. After all, that is the best tournament in tennis.
What was in your mind in the deciding moments of the Wimbledon final?
I was not tense earlier in the game, but I was really tense at the time of match-point. It was the Wimbledon championship point, and I was returning the ball… I kept breathing deeply and told myself 'Okay, just breathe in and breathe out and see what happens'.
Where do you see yourself going now?
My aim is to be a top 50 tennis woman professional player and stay there for 3-4 years. Let us see how it goes. A lot of factors come into play, like luck and destiny.
Is playing on the international circuit much harder than playing in India?
Definitely. Players on the international circuit, like the Russians and the Europeans, are a lot fitter. They are bigger built and more solid than Indian players. They are definitely tougher. I think it makes you tougher playing with the Europeans and the Russians.
What is your physical training regime like?
I get up at 5.30 – 6 am when I am in Hyderabad and go for physical training. I come home for breakfast after an hour-and-a-half, have breakfast, and by 8 am I am at the tennis courts. I play till about 10.30 am, come back home and do whatever -- studies, catch up on sleep -- and go back to play at 2 pm. I am at the courts until 4.30 pm. After that it's physical fitness again until 6.30 pm. So I do about three hours of physical fitness training in a day. It's all kinds of training: gym 3-4 times a week, some speed work, endurance and agility.
When you travel do you take care to eat the right things?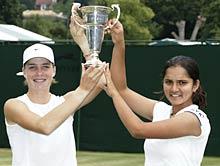 I don't have a diet. I am supposed to have a proper diet, but I don't. I have a tendency to put on weight, but I work out so much that I burn most of it. I am not putting on weight, so I guess I am doing this right. Plus, I have enough stamina as well.
What do you enjoy doing in your spare time?
I like being at home because I am hardly at home; I am always travelling. I like staying at home, just watch a movie at home. Surf the Net.
What kind of movies do you like to watch?
Hindi and English. I like Hindi movies.
Who are your favourite stars?
I like Akshay Kumar! [laughs girlishly]; Actresses, I like [giggles] Raveena Tandon.
What surfing do you actually do?
Anything. Usually, I don't have time to do more than check my mail. I also see tennisindia.org. That's a good site. That's about it. I don't actually surf more than that.
Do you read? Listen to music?
No, I don't like reading. As for music, I listen to it, but not a lot of it. I like rap and Hindi. I have been liking Hindi for the past six months or so.
Do you have a large circle of friends in Hyderabad?
Not large. I am hardly in Hyderabad, and it is hard for me to stay in touch with many people. It's not a large circle, maybe just 4-5 of us.
All girls?
Well, mine is a girls' school.
Have you made any friends on the international tennis circuit?
Definitely. I have a lot of friends. We just meet for one week and then everyone is off to their own countries and their own world. Everyone is really friendly on the tennis circuit.
Do you wish, looking at players from countries with better tennis facilities, that you had access to that kind of training?
I have seen the best. I have seen the Bollettieri academy, I have seen the Van der Meer academy, and these are supposed to be the best in the world. I would certainly like to go to one of them, where the facilities are also good. You definitely cannot compare the Indian facility to these academies, where there are sometimes 50 courts! Maybe they are richer countries; you cannot expect to have that in India.
Do you think tennis is a good sport for children to take up in India?
I think any sport is good, whether it is tennis or cricket. But, definitely, tennis is really catching up India. A lot of girls and boys are playing it here now. I love this sport, I think it's very good; it is very healthy. It's just great!
Do you now see a lot more girls in this game now? Anyone coming up to you and telling you that you inspired them to opt for this game?
Yes, there have been a lot of girls over the past 2-3 years. I don't know whether I have inspired any of them. I doubt that I did.
What kind of food do you like?
I love meat. So I eat meat morning, lunch and dinner. Maybe, for snacks too. I don't touch vegetables. I know that's not very good, but I simply can't stand them! [giggles] Rice, chapatis, all that too. I do eat fruits, but I am very picky about them: I don't like apples and bananas. Not much junk food
What kind of clothes do you like to wear?
I wear everything. Salwars, jeans, pants, everything. I mostly don't have time to wear all that though. I am mostly in my tracks!
What colours do you like?
Black, red and blue.
Where do you see yourself going after you peak in your tennis career?
I like interior decoration, so I might do something in that. I have not thought that far, seriously. I might, at some point, take two years off to study interior decoration. Or I just might, when I am 24 or so, open a tennis academy and just start coaching. It all depends on the circumstances.
Also read: