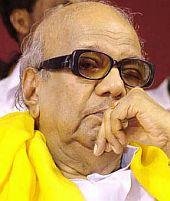 The University of Madras has announced that the institution will offer a masters course in Kalaignar (Karunanidhi) Thoughts.
The course, which will commence from the next academic year, has sparked a debate over whether a state university can start a course based on the ideals and philosophy of a serving chief minister.

Tamil Nadu's well-known editor 'Cho' Ramaswamy has already described the move as the height of sycophancy.
Karunanidhi already has a TV channel, an award and a health insurance scheme named after him.
What is your take on the issue? Will you do an MA in Karunanidhi? Tell us!