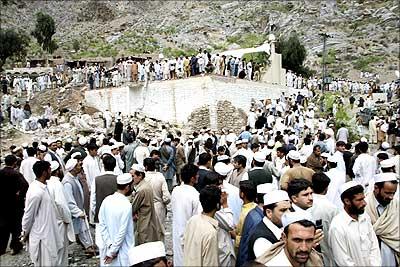 At least 50 persons were killed when a suicide bomber struck a mosque packed with worshippers for Friday prayers in Pakistan's restive north-west Khyber tribal region on Friday and the two-storey shrine also collapsed in the blast.
In one of the worst terror strikes in the country, the mosque situated in Jamrud area of Khyber tribal agency was targeted leaving at least 100 persons injured. About 300
persons were reported to be inside the mosque at the time of the attack.
Assistant political agent Fida Bangash of Khyber Agency told TV channels that at least 50 people were killed after a suicide bomber blew him up. Among the dead were 15 members of the local political administration and the Khasadar force.
Officials said the toll could rise since some victims were believed to be buried in the rubble.
About 30 personnel from the local Khasadar militia were in the mosque, which caved in after the blast, and officials said they could have been the target of the attack.
Tariq Hayat, the political agent of Khyber Agency, said the attack was carried out by a suicide bomber. Other officials said the attacker had rammed an explosive-laden vehicle into the mosque, which is located near a Khasadar check post on the Pakistan Afghanistan highway.
No group had yet claimed responsibility for the strike.

Five security personnel were among the dead while the rest were civilians, witnesses said.
Image: People gather at the blast site near Jamrud in the Khyber agency tribal region, about 30 km from the Afghan border on Friday.
Photograph: Reuters/Ali Imam.