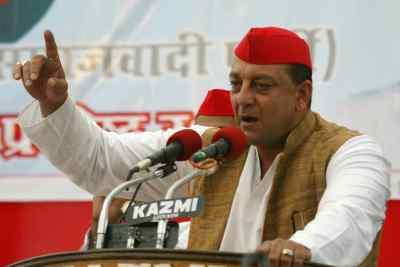 In a bid to strike an emotional chord with the youth, actor and Samajwadi Party nominee from Lucknow Sanjay Dutt on Saturday said that he was ready to face bullets while struggling for their cause.
"I am here to struggle with you all and I am ready to face lathis and bullets in the process. We will fight unitedly for the cause of the party and youths," Dutt said while addressing a state convention of the SP's youth wing. Donning a red cap, symbolising SP, Dutt said he was not there to give speeches but to work for the people.
"I am not here to give a speech. I am here to work. Yeh cycle (SP's poll symbol) meri, aapki, sabki hai, aur ise Delhi tak le jana hai (This cycle belongs to all of us and we have to take it to Delhi)," he said, adding that with SP workers and leaders around, he felt at home.
"Mulayam Singh Yadav and Amar Singh once told me that you will become a part of the SP family, once you wear this red cap. Today, I have worn it to become a member of your family," he said.
Dutt, who is on a two-day tour of the state capital, paid a visit to the Teele wali Masjid.
"For me, Lucknow is like a family. I share an emotional bonding with the city. I am here to repay the debt of my father," Dutt told reporters. He was accompanied by SP general secretary Amar Singh.
Image: Sanjay Dutt at a meeting in Lucknow | Photograph: Reuters