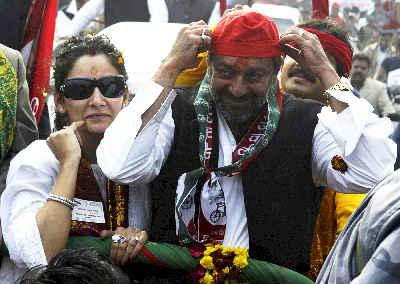 Bollywood actor Sanjay Dutt arrived in Lucknow on Saturday to a hero's welcome by thousands, who hailed him as the Samajwadi Party nominee for the prestigious Lucknow Lok Sabha seat.
Overwhelming crowds, largely comprising SP activists and supporters, thronged at the Lucknow airport where he landed about 1 pm. Dutt's motorcade meandered through the crowded main thoroughfare where passers by too joined in to cheer him.
He made his first halt at the statue of Mahatma Gandhi at Hazratganj , from where he was driven down to  SP state headquarters on Vikramaditya Marg.
Donning red caps, SP activists danced to the tune of music bands, which played along the 14-km route from Lucknow airport to the party office.
Dutt was flanked by his wife Manyata and fellow actor-turned-SP-politicians including Jaya Prada, Jaya Bachchan and Manoj Tiwari. The SP top brass including president Mulayam Singh Yadav and general secretary Amar Singh were also in attendance.
The actor used the popular concept of 'Gandhigiri' from his blockbuster Lage Raho Munnabhai repeatedly, quipping that he will send 'flowers to Mayawati' when asked about the formidable Bahujan Samaj Party chief and UP chief minister.
 "You will see my Gandhigiri in real life now," he told a crowded press conference after his four-hour long road-show.
Asked to comment about who would play his sidekick 'circuit', Bachchan retorted, "All of us."
Dutt's high-profile entry into politics as a SP contender has already sent jitters down the BSP rank and file. The party's discomfiture became visible in a shabby protest staged by a handful of supporters of Akhilesh Das, who put up placards declaring, 'Sanjay Dutt wapas jaao' (Go back Sanjay Dutt) .
Earlier, an anonymous hoarding replaced one of BSP's campaign hoardings, depicting an AK- 47 rifle and captioned, 'Lucknow does not want AK – 47s', in a veiled reference to Dutt's conviction under the Arms Act.
"Cricketer-turned BJP MP  Navjyot Singh Siddhu, who had been allowed to contest even after being convicted of culpable homicide, had called Sanjay up to reassure him that the latter's conviction under the relatively  milder provisions of Arms Act could not come in his way of contesting the poll," claimed Singh.
Taking on the BSP, Singh said, "It is a matter of shame that someone like BSP MLA Shekhar Tiwari, who brutally lynched a PWD engineer to death, is not called a terrorist , but Sanjay Dutt is being labeled by some people as a terrorist when the TADA court had absolved him of that false and baseless charge."
Dutt declared that he would not contest from Lucknow if former prime minister and sitting Bharatiya Janata Party Member of Parliament Atal Bihari Vajpayee decided to contest the upcoming Lok Sabha polls.
"I have tremendous regard for Vajpayeeji . If he decided to seek re-election from here, then I would not like to contest against him," Dutt candidly told mediapersons.
Sanjay struck an emotional chord by emphasising, "I am going to follow in the footsteps of my father. I will always observe the ideals laid down by my parents."
When queried on how much time he would spend in Lucknow if he was elected, Dutt shot back, "As much as my father spent in his constituency."
Amar Singh added, "Let me tell you that Nargisji had her roots in Lucknow, while Sunil Dutt got his first public felicitation in this city's Aminabad."
He added, "SP is not doing any favours to Sanjay Dutt by offering him the Lucknow Lok Sabha ticket. We are grateful to Sanjay for accepting our offer."
Image: Sanjay Dutt with wife Manyata in Lucknow on Saturday | Photograph: Pawan Kumar/REUTERS