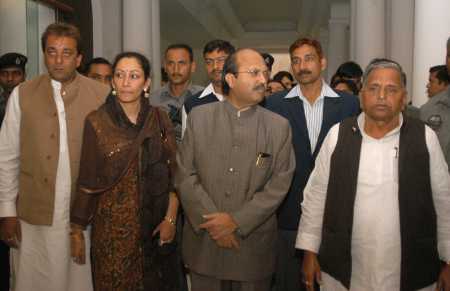 Bollywood star Sanjay Dutt, who has been declared by the Samajwadi Party as its nominee from the prestigious Lucknow Lok Sabha seat for the coming general elections, is hopeful of getting the Supreme Court nod to enter the poll fray.
Though announced by the party as its candidate from the seat, the actor, who was sentenced to six-year jail term in connection with a case related to illegal possession of firearms in July 2007 and later granted bail by the Supreme Court, needs the apex court's permission to contest the coming Lok Sabha polls.
Talking to the media at a luncheon in Lucknow, the filmstar said
he is hopeful of getting the Supreme Court's nod to enter the polls fray as he has "not done anything wrong".
To questions as to what he would do if rival political parties pitted someone from the film fraternity against him, Dutt said Bollywood is like a big family whose members never campaigned against each other.
"People like Vinod Khanna and Hema Malini while being in rival parties had never campaigned against my father", he said.
About his visit to the city, Dutt said he was here to repay his debt of gratitude to the place which provided shelter to his father when he came here in the 1940s.
Dutt junior who could not make it to the  "Ganne wali Gali", where Sunil Dutt had rented a house while working at the AIR in the 1940s because of security reasons, promised that he would keep his date with the area soon.
Sanjay wanted to quit films: Amar Singh
Sanjay Dutt wanted to quit cinema for politics but was persuaded not to do so, SP leader Amar Singh said.
Addressing party workers in Lucknow, Singh said :initially I had my doubts since Sanjay is a film actor. But later, I was surprised when Sanjay said that he is ready to quit films for politics. But I told him that only a balance is needed between both of them."
"If there is any actor in Bollywood who has portrayed Gandhi and his philosophy in the best possible way, it's Sanjay Dutt," said Amar Singh in an apparent reference to "Munnabhai" series of films.
He alleged some Congressmen who were against Sunil Dutt were up in arms against Sanjay also.
Image: Sanjay Dutt, Manyata, Amar Singh and Mulayam Singh in Lucknow on Wednesday.