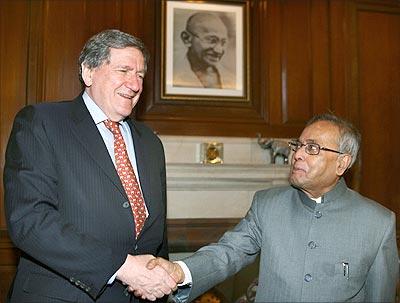 The Taliban forces operating out of Pakistan's Swat region pose a common threat to India and the United States, besides the host country, America's special envoy Richard Holbrooke suggested in New Delhi on Monday.
The envoy for Afghanistan and Pakistan, who met External Affairs Minister Pranab Mukherjee, National Security Adviser M K Narayanan and Foreign Secretary Shivshankar Menon, said he had sought the Indian leadership's assessment of the situation in the region and briefed it about his visit to the two countries.
"For the first time in 60 years, your country, Pakistan and the US all face an enemy that poses direct threats to our leaderships, our capitals and our people," Holbrooke told reporters after his meetings. He said this common threat comes from developments in Swat where the Taliban virtually call the shots now.
"I do want to underscore the fact that what happened in Swat demonstrates a key point and that is that India, US and Pakistan all have a common threat now," he said.
Swat, located just 160 kms from Islamabad, is virtually being run by the Taliban who have given a tough time to Pakistani military and kidnapped several people, including foreigners, to negotiate the release of their cadres.
The Pakistani military has resorted to all kinds of force, including artillery and helicopter gunship, against the Taliban entrenched in the tribal areas but without much success.
Though the North West Frontier Province government and the local Taliban signed a peace deal last May, it collapsed within months. Security experts believe the peace pact was used by the militants to regroup.
Speaking about his visit to Pakistan last week, Holbrooke said "When I was in the tribal areas and, I did not go to Swat but I was in Peshawar. I talked to people from Swat... They were frankly quite terrified."
He added that Swat has "really, deeply affected the people of Pakistan not just in Peshawar, but in Lahore and in Islamabad".
On the 10-day ceasefire announced by the Taliban in Swat to facilitate the implementation of Islamic Shariah laws there, Holbrooke said he did not have much information about it and would be talking to the US Ambassador in Islamabad regarding this. He said he had 'reported' to the Indian government on his trip to Pakistan and Afghanistan and exchanged views.
"I carried no messages or guidance. I just wanted to hear the views of India on a wide range of issues," said Holbrooke, while expressing happiness at being back in India, a country he has 'loved since his childhood'.
Image: US Special Envoy to Pakistan and Afghanistan Richard Holbrooke with External Affairs Minister Pranab Mukherjee in New Delhi on Monday.
Photograph: Reuters/B Mathur