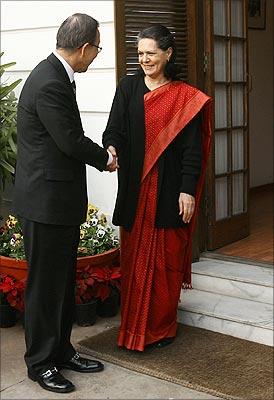 India on Friday said that the United Nations should ensure that Pakistan fulfills its commitment to end the terrorism emanating from its soil.
External Affairs Minister Pranab Mukherjee said he had apprised UN Secretary General Ban Ki-moon on Thursday about the details of the Mumbai attacks, which were carried out by elements based in Pakistan.
"I had a detailed discussion (with Ban) in the context of the terror attack on Mumbai and the material which we have given to Pakistan and shared with the entire international community by sending letters to foreign ministers," he told reporters on the sidelines of a conference on global financial crisis.
"I requested the UN Secretary General to look into those aspects and ensure that Pakistan fully implements its own commitments that it has given to India and the international community several times," Mukherjee said.
The UN Secretary General also met Congress chief Sonia Gandhi during his Delhi visit on Thursday.
The Indian side also told Ban that India has concrete evidence to show that the attacks were planned in Pakistan and conducted by elements based in that country. The dossier in this regard has already been given to Pakistan with an expectation that they would act against the perpetrators, he said.
Image: United Nations Secretary-General Ban ki Moon with Congress president Sonia Gandhi at her residence in New Delhi on Thursday.
Photograph: Vijay Mathur/Reuters