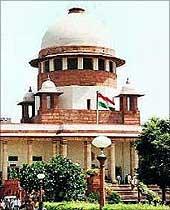 A husband and his relatives cannot be prosecuted for 'cruelty' towards wife merely because the mother-in-law or other family members had kicked her or for that matter threatened her with divorce, the Supreme Court has held.
Similarly, if a mother-in-law gives constant sermons to the daughter-in-law or allegedly treated her shabbily by giving her used dress suits, it does not invite prosecution under Section 498A of the IPC, a bench of Justices S B Sinha and Cyriac Joseph said.
However, if the mother-in-law takes away the gifts given to the couple at the time of the marriage, it amounts to 'breach of trust' as specified under Section 406 IPC, the apex court said while dealing with an appeal filed by South Africa-based NRI husband and in-laws in a matrimonial dispute case.
"Allegations that appellant No 2 (mother-in-law) kicked the respondent (daughter-in-law) with her leg and told her that her mother is a liar may make out some other offences but not the one punishable under Section 498A.
"Similarly her allegations that the appellant No 2 poisoned the ears of her son against the respondent; she gave two used lady suits of her daughter to the complainant (daughter-in-law) and has been giving perpetual sermons to the complainant could not be said to be offences punishable under Section 498 A", it said.
The bench said 'even threatening that her son may be divorced for the second time could not bring out the offence under Section 498A of the IPC'.
What do you think about the apex court's verdict? Post your views in the discussion board below...