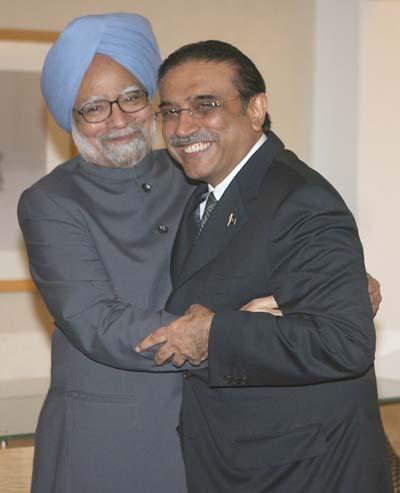 Prime Minister Manmohan Singh followed protocol when he called on Pakistan President  Asif Ali Zardari in Millennium Plaza Hotel in New York on Wednesday.
Zardari, who is many generations younger than Dr Singh, is struggling to stabilise himself at a time when the situation in his nation is volatile.
The Pakistan President was quite in awe of Dr Singh and that was visible in his body language. While welcoming Dr Singh, he said, "I admire you as the father of economic reforms of India."
He also said that Pakistan is following the economic reforms undertaken by India.
In a charming manner, he asked Dr Singh, "Can I hug you?"
And he gave a warm hug to the PM. Some photographers, who missed the photo-op due to the PM's frail body, wanted Zardari to hug Dr Singh again. Zardari rejected the idea saying, "He will be offended."
It was obvious that Zardari had done his homework.
In the presence of photographers, Dr Singh didn't say a word but just kept smiling.
According to sources, both leaders spoke in Punjabi mixed with English during an one- on- one meeting that lasted almost 40 minutes.
India, Pakistan vow severe action against terrorist acts
Image: Prime Manmohan Singh with Pakistan President Asif Ali Zardari in New York on Wednesday
Photograph: Paresh Gandhi