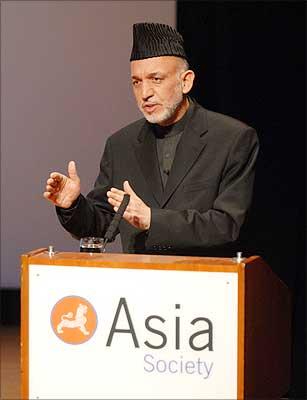 Afghanistan President Hamid Karzai sprang a huge surprise when he said that he is not against the idea of a joint force of Afghanistan and Pakistan to patrol the volatile border between the two countries. He was replying to a specific question of Thomas E Freston, investor in media business at the event of the Asia Society in New York.
He said he had not heard of such a proposal, but if it comes he would welcome it. He categorically said, "I will support it."
The porous borders between Pakistan and Afghanistan is the major issue between the two countries and the area along the line is the breeding ground of jihadi terrorism.
On Tuesday afternoon, Karzai came to the Asia Society, spoke about how the entire problem of terrorism lies in the court of Pakistan, and melted many American hearts who thought he was "fantastic." He got a standing ovation.
One of the most elite audiences of America was here. Gigi Deckter, a fashionable lady sitting in the middle row of the audience fiddling with her ipod, said, "Oh, he is the most important man in New York today. I want to hear what he is up to. What he will do to improve the situation. He is very, very important for America."
Joann Silverstein, sitting a seat away, said, "What all we hear about Afghanistan! What has America landed itself in? I think he is doing a good job."
Asia Society's management, while welcoming Karzai, said that America is in its eighth year of "military activity" in Afghanistan. Right now, Asia Society's main focus is Afghanistan, after China.
Karzai's speech was engaging, but predictably he dished out only those facts that Americans would like to hear.
Of course, he didn't say that in his part of the world American "military activity" is considered, "as an act of aggression" by many in the Pashtun and tribal areas where the real war of nerves is on. He himself has been rated as a leader who has fallen short of expectations. He could not deliver in spite of enormous support from America.
However, Karzai had some engaging views to share with the American audience and that gave enough evidence of why he is still supported by the American state department.
"The people of Afghanistan have better livelihood, our economy is better but security is not as good as it should be. As we desire. We are still fighting terrorism, we are still fighting Taliban," he said.
He said from the Afghan point of view, "The international community concentrated on Afghanistan alone as a place to fight extremism."
Afghans told the international community that Afghanistan is not the right place to fight a war against terrorism, a war against extremism. The war against terrorism should have a 'regional' approach, he added.
Without naming Pakistan's Inter Services Intelligence, he said that the war should have been concentrated on those who trained extremists, equipped extremists, motivate extremists and send them across the borders.
The porous borders between Pakistan and Afghanistan is the major issue between the two countries and the area along the Durand line is the breeding ground of jihadi terrorism.
The problem is that extremism is getting institutional support since years in that part of the world, he said.
No country should ever use extremism as part of their policy, Karzai added.
"The West begin to fight symptoms of terrorism, but the West failed to address the deep-rooted problems of terrorism," he said.
Karzai said Afghanistan was not heard. He said he did not know if that was due to a lack of knowledge or something else. Since last two years Pakistan has also been suffering, perhaps more than Afghanistan. The entire tribal belt was suffering, he said.
Karzai said that the latest change in Pakistan is good for the region. He said he could identify with Pakistan President Asif Zardari. "President Zaradari has exactly the same sentiments as I have," Karzai said.
Karazai's father Abdul Ahad Karzai was killed by Taliban in 1999 in Quetta, Pakistan.
Karzai met Republican vice presidential nominee Sarah Palin on Tuesday. "She is a very capable person. She seemed concerned and asked the right questions. I am pleased to meet her," he said.

Image: Afghan President Hamid Karzai at the Asia Society, New York.
Photograph: Paresh Gandhi