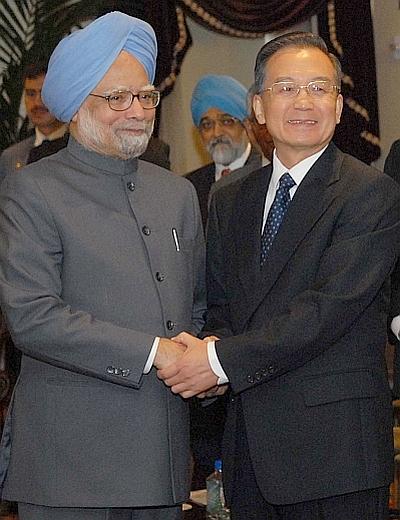 There is life beyond Vienna for India and China. When Chinese Prime Minister Wen Jiabao called on Prime Minister Manmohan Singh in the New York Palace Hotel both leaders used their warmth and experience in ample measures.
Why China did what it did at NSG


Both leaders talked about how cooperation in civilian nuclear energy could be expanded. China and India have cooperated in the past and are looking forward to working together in the nuclear energy sector in future.


When asked about the controversial issue of China's position on Indo-US civilian nuclear deal and Nuclear Suppliers Group, Foreign Secretary Shiv Shankar Menon said, "We have worked together in past. China joined the consensus in NSG. There would not have been consensus at NSG if China was not part of it. We are happy that they did. That issue I think is behind us."
'China and India have no fundamental conflicts'
Menon, while briefing media after the meeting, said, "It was very warm and friendly meeting. This is their seventh meeting in last four and half years."

The meeting lasted little less than an hour. 
When asked if any discussion took place about Pakistan, Menon said, "Not directly. We discussed about terrorism." He also dismissed queries on discussions about a possible nuclear tie-up between China and Pakistan, stating that 'they are two sovereign countries'.
'It is time to wake up to Chinese incursions'
While speaking the border row, Menon cautiously said, "Both leaders also spoke about the boundary question. They recognise that it is a complicated issue. The issue has been there for some time."

Both sides appreciated the efforts of Special representatives' talks and wanted it to continue.
Both leaders also discussed issues of the region and the world.
China, India still suspicious of each other
Menon said, "I think both leaders have personal rapport, also. There were several personal gestures made. Dr Singh had spoken at Cambridge on inclusive globalization and Premier Wen Jaibao had also spoken on inclusive development in Singapore. Both speeches have been published in one book by Cambridge University. Premier Wen Jaibao brought the two copies and both autographed and exchanged."

Menon said, "Both leaders have over time discussed about how large countries like India and China have similar approaches, similar development challenges. It is important for both these countries to not just develop to contribute to world's development -- since two-fifth of world population is in these two countries -- but, also, we do this in an open inclusive way and we should learn from each other.
A powder-keg on the border with China
During his talks with Wen, Dr Singh also recalled his visit to China in January when he issued a shared vision document along with him. The document speaks about the similar approaches that both countries have on global issues like climate change, trade issues and world economy."
Menon said a revised trade target of $60 billion between the two countries by 2010 may be achieved one or two years early. Once again, India and China's relations are back on slow and steady track with trade relations driving both nations.

After the seventh meeting of Dr Singh and Wen Jaibao, the Vienna story, as Menon said, should be left behind.
Image: Prime Minister Manmohan Singh with his Chinese counterpart Wen Jiabao.

Reportage: Sheela Bhatt | Photograph: Paresh Gandhi