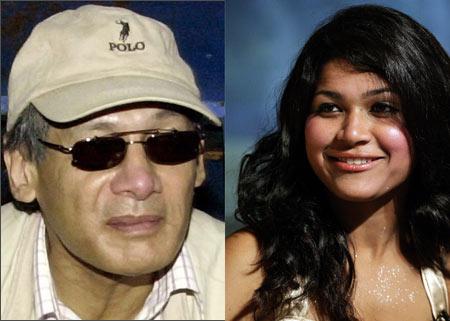 Authorities at Kathmandu's Central Jail on Friday dismissed as 'rumours' reports that notorious criminal Charles Sobhraj has married his teenage girlfriend in a huff on the occasion of the Hindu festival Vijaydashami.
"We had no information about the wedding before a news report appeared in Indian media," said a police official who is in charge of the jail security.
Confirming that a meeting took place between Sobhraj and Nihita Biswas at the jail premises on Thursday, a junior staff member at the prison said the two along with Nihita's mother exchanged 'Tikas' as per the traditional practice on the festival, but no wedding ceremony took place.

"There was no exchange of rings, no exchange of garlands and no 'Sindur' or vermilion applied to the girl as is required in the Nepalese tradition of marriage," said Bir Bahadur Tamang, a junior staff at the jail who was also witness to the 15-minute meeting between Sobhraj, Nihita and her mother Shakuntala.
"No rituals of a wedding were performed at the meeting," he told PTI.
Nihita's mother applied a 'tika' on Sobhraj's forehead as a blessing during the tenth day of Dussehra, while Sobhraj offered the same to Nihita, in a ritual also performed by hundreds of other inmates at the prison, officials said.
However, Sobhraj was not available for comments as he is not allowed to meet visitors except during Sundays and Wednesdays.
He was, however, allowed to meet Nihita and her mother on Thursday on the special occasion of Dashain.
Meanwhile, a lawyer at the Supreme Court said Sobhraj cannot marry the girl unless he obtains a clearance from the French government that he is single.
"If he marries without getting formal divorce certificate from his French wife, he will get up to three years' imprisonment for committing polygamy as per Nepalese law," said lawyer Dinesh Tripathi.
Another jail staffer said that Charles might have spread 'misinformation' through Indian media as a publicity gimmick.

There are three cases relating to Sobhraj, which are pending in the Supreme Court. Two cases are related to the use of fake passports and one with the murder of an American tourist in 1975.
Nicknamed 'bikini killer', Sobhraj has claimed innocence, saying that police has accused him by producing fake documents.
The next hearing of his case will be held only on October 19, because of the long Dussehra holiday in the country. Reports had said yesterday that the 64-year old Sobhraj had married his 19-year-old girlfriend.

Image: (Left) Charles Sobhraj, (Right) Nihita Biswas
Photograph: Prakash Mathema/AFP/Getty Images