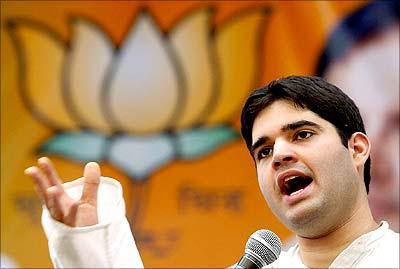 His cousin may garner more eyeballs, and attention, across the political landscape, but it may well have been
Varun Gandhi
who could have had all that but for one fateful day in June 1980.
Gen Next may know its I-Phone from G1, but when it comes to the Gandhi-Nehru family whose vicissitudes marched in tandem with the nation's, its knowledge may not stretch beyond Priyanka and Rahul.
Heck, it's 17 years since their father Rajiv Gandhi was assassinated.
So to begin at the beginning or thereabouts, Indira Gandhi daughter of Jawaharlal Nehru had two sons, Rajiv and younger son Sanjay. The latter it was who was the chosen one, by the mother that is, to inherit the democratic kingdom. The elder son had shown no political inclination whatsoever, while the younger one took to it like, well, Saif to Kareena.
Things would have gone according to script but for one fine summer day. On June 23, 1980, Sanjay Gandhi went for a spin in his trainee aircraft, and that was the last time he was seen alive. He perished in the air crash.
Brother Rajiv had a better flying record, though the same cannot be said when it came to steering the nation. A pilot with Indian Airlines his life had been set, till that fateful day. A reluctant Rajiv gave up his job and took to politics --- wife Sonia Gandhi remarked later that she 'fought like a tigress' against the decision, but the die had been cast. The nation's, as well as the family's.
Sanjay's death changed many things, but the biggest change was on his widow Maneka Gandhi and infant son Varun. Till then the core of Indira Gandhi's existence, they had to move out unceremoniously as the other son and his Italian wife now took centrestage.
While there was no communication between the two daughters-in-law after the family split, the cousins remained in touch, even when their destiny took them on diametrically opposed paths.
Rajiv Gandhi spent one term as MP, before his mother's assassination in 1984 forced him into the prime minister's seat. He also led the Congress party to its biggest electoral victory ever soon after, and also squandered it in the next round of elections.
Maneka, meanwhile, ploughed a lonely furrow. She made loving animals and going green fashionable; and her politics took her close to the BJP -- natural, since the Congress's doors were shut on her forever. Making Pilibhit in UP her pocket borough, she held a few ministerial posts at the Centre, under prime ministers V P Singh and A B Vajpayee.
In 2004, Varun showed no qualms in joining the BJP, along with his mother, where he is today ranked as a rising star. Since he was not yet 25 at the time of the 2004 elections he couldn't contest then, and well he didn't as it turned out for the party. But the BJP has nominated him this time round, from Pilibhit, his mother's constituency with Maneka moving to Aonla.
It's nothing new in the family. Sonia Gandhi had similarly vacated the Amethi seat for son Rahul, Varun's first cousin, and moved to Rae Bareli.
Varun last year turned down an offer from the BJP to put him up in by-elections from Uttar Pradesh. The party's calculation was obvious, to dent the 'Gandhi family' mystique by nominating a member of the family, but Varun refused to play ball.
Varun had said in an earlier interview that 'my family is very important to me, I don't believe in the politics of personalised attacks, I have a personal relationship with Rahul, I am never going to allow anyone to use me against my family,' but possibly the BJP brass failed to read it.
In 2006, too, there was a strong move to nominate him from Vidisha in MP, but the BJP finally decided against it.
So why is he in politics? He had told Outlook magazine in 2004: 'I am not in it for glamour, position or money. I believe we need a revivalist national movement, a new politics should take root in India.'
But politics is not his only calling. In 2000 Varun, who is a full 10 years younger than Rahul, had released a book of poems titled The Otherness of Self, and confessed in an interview that he started writing poetry at the tender age of 17. 'It just happened.'
So could a grand family reunion happen, when the young cousins, untrammeled by family bitterness, take centrestage?
Varun Gandhi had told an interviewer that the BJP is the first, last and only party he will ever join, so at least for the time being we have an answer.
Photo: Prakash Singh/AFP/Getty Images