The Noida police on Friday arrested Dr Rajesh Talwar, father of 14-year-old Aarushi, who was murdered on May 16 in their Noida residence.
Talwar killed Arushi and his servant Hemraj because they knew about his extra-marital affair and the two victims themselves shared a close relationship, said the police.
Exactly a week after the girl's murder came to light, Meerut Zone's Inspector General Gurdarshan Singh told a press conference that Talwar was arrested after enough evidence was gathered, including the 'strenuous cover-up' attempts by the dentist.
He said Talwar first killed the domestic help on the terrace of the house in the early hours of May 16 and then came down to kill his daughter after having some whiskey.
Singh said that further investigations were on and parried all questions about whether any more arrests have been made in the case.
According to the police, Rajesh was having an affair with one Anita Durrani. Both Aarushi and Hemraj knew about Rajesh's affair. While Aarushi objected to her father's affair, Hemraj was blackmailing Rajesh. 
The police said that Aarushi's mother Nupur had helped her husband commit the murders. Both Anita and Nupur have been reportedly detained.
The police suspected insider involvement in the case as the Talwars' flat had three-tier security, which was difficult to breach. Moreover, none of the neighbours heard any noise.
The police said that Rajesh deliberately misled the police about various aspects of the case. The police started suspecting Rajesh when he gave contradictory statements about the incident.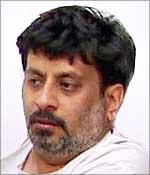 Rajesh Talwar
"Investigations are on and we have revealed to you details about which the probe is over. We have not done the arrest solely on the basis of confessions. We will not arrest a person if we do not have sufficient evidence," Singh said while replying to a barrage of questions.
After taking Talwar on remand, Singh said the police would take him out to recover the weapons used in the murder – a sharp edged weapon and possibly a hammer-like object
The nature of injury suffered by the two victims was similar. Earlier, the police had said that the murders could have been committed by either a 'doctor or a butcher', because of the precise nature of the injury caused by the slitting of the throat, which claimed the victims' lives.
The body of Aarushi was found in the bedroom of the Talwars' residence on May 16 and immediately police suspected the hand of Hemraj, their domestic help, in the murder. However, a day later, the body of Hemraj was found on the terrace of the house.
The police had questioned Aarushi's parents and former domestic help in connection with the twin murders.