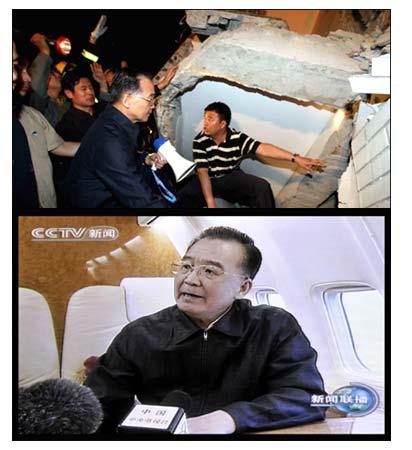 Chinese Premier Wen Jiabao speaks to a rescue worker looking for bodies under a collapsed hospital in Dujiangyan, in south-west China's Sichuan province on Tuesday after an earthquake measuring 7.8 rocked the province.
The death toll from the powerful earthquake has climbed to nearly 10,000 and it may go up with thousands more remaining under debris of collapsed buildings as rescuers struggle to reach remote towns and villages devastated by the country's worst natural disaster in three decades.
A television frame grab from China's state television channel CCTV shows Jiabao on his way to Sichuan province. He described the earthquake as a 'disaster'.
Photograph: AFP/Getty Images
Read More
China earthquake: Toll is 10,000