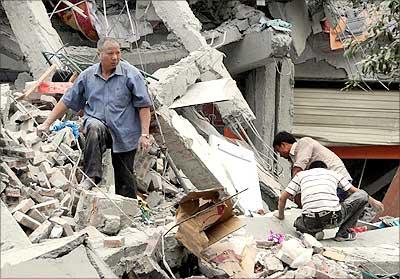 Over 8,500 people were killed and nearly 900 students were reported to be buried in one of China's strongest earthquakes in decades that struck the country's southwest Sichuan province on Monday.
Described as a 'disaster' by premier Wen Jiabao, the tremor measuring 7.8 of the Richter scale injured thousands in the mountainous province even as the shock waves rattled Chinese cities and caused casualties in Sichuan, Gansu and Yunnan provinces and Chongqing municipality.
Chinese state media said that 8,500 people had died in Beichuan county in Sichuan province from the massive quake.
It said another 10,000 people were believed hurt in the same county in the devastating tremor.
Nearly 900 students were feared buried after a high school building collapsed in Dujiangyan City, about 100 kms from the earthquakes epicentre of Wenchuan County in Sichuan province, official Xinhua news agency said. It gave no other immediate details.
The quake jolted vast swathe of China sending waves of panic as thousands of people came out of high rise buildings and poured into the streets in cities including Beijing and Chinas economic hub Shanghai, where China's tallest building Jinamo tower was also evacuated. There were no immediate reports of damages or casualties.
The quake was also felt as far as in Bangkok, capital of Thailand and Hanoi in Vietnam.
Troops were rushed to the affected areas for disaster relief work, while President Hu Jintao ordered 'all out efforts' to help the victims.
China previously reported an earthquake of similar magnitude on July 28, 1976 in Tangshan city near Beijing in which over two lakh people were killed.
External Link: Images from the disaster
"My fellow Chinese, facing such a severe disaster, we need calm, confidence, courage and efficient organisation," Premier Wen Jiabao said as he flew to the disaster-struck area to oversee relief work.
Telecom networks in Chengdu, Chongqing and Zhengzhou cities were paralysed after the quake. In Chengdu, cracks were seen some buildings, Xinhua said
The quake that jolted eastern Beijing measured 3.9 on the Richter scale.
Lisa Wang, an office worker in Oriental Plaza in downtown Beijing, said the whole building was evacuated after the tremor.
Officials said 80 per cent of the buildings toppled in Beichuan Qiang Autonomous County, northwest of the provincial capital of Chengdu, 146 kms from Wenchuan County, the epicentre of the killer quake.
"My colleagues, more than 50 people, rushed downstairs from the sixth floor into the plaza in front of the building. A large number of people, other office workers, were already there and more people poured out," she said.
She said hundreds of people stayed outside for about 15 minutes before returning to their offices. Similar experiences were reported by others, some saying they even felt dizzy.
Before the strong earthquake struck, the Sichuan provincial seismological bureau detected a moderate quake measuring 5.4 on the Richter Scale in Mianzhu city of Deyang, Xihnua said.
Monday's quake was the strongest to hit Sichuan province in more than 30 years. Overall, 44 aftershocks had been reported, the strongest one measuring 5.6, it said.
Chinese Air Force has sent helicopters to assist in relief work in the quake stricken areas, while the State Seismological Bureau is also dispatching a team to gauge the situation.
Image: Rescuers search in the rubble of the collapsed Juyuan middle school in China's Sichuan province after the devastating earthquake on Monday.
Photograph: AFP/Getty Images