China and Tibet have agreed to resume formal dialogue and a date will soon be finalised, the Dalai Lama's special envoy Kasur Lodi said on Thursday in Dharamshala, Himachal Pradesh, where the Tibetan government in exile is based.
"During our informal talks with our Chinese counterparts on Tuesday, we spoke about whether it would be appropriate to resume the formal dialogue, which had stopped after six rounds. There were some ideas exchanged and both sides agreed to resume formal talks," Lodi said after briefing the Dalai Lama about the developments.
"In view of the recent events in Tibet and the Chinese action, we thought having formal talks at  this time would not be correct, which is why we suggested an informal meeting of only the principals, without aides. This is also why we met in Shenzen not Beijing," Lodi added.
Though he welcomed the Chinese side's willingness to sit for further talks, Lodi said China did not back off from its stand of accusing the Dalai Lama for inciting violence an create unrest in Tibet.
"There were strong and divergent views on the nature as well as the causes of the recent tragic events in Tibet. These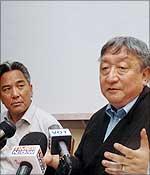 views were expressed in a frank and candid manner. On our part we categorically rejected the accusations against the Dalai Lama.
We made it clear that the events in Tibet are the inescapable consequences of several decades of wrong policies," Lodi said.
In spite of these differences, both sides exchanged concrete proposals that can be part of a future agenda, he said.
"Despite major differences on important issues, both sides demonstrated a willingness to seek common approaches in addressing the issues at hand. In this regard, both sides made concrete proposals. Only as a consequence of this did we agree for resuming formal talks," he said.
He declined to go into the details of these proposals and any assurance that China might have given him.
Lodi also said the situation may worsen if China did not take immediate steps to address the issue.
"China must apply restraint and take measures to meet the aspirations of the Tibetans. I have to clarify that this is not a warning, as our Chinese friends have a tendency to misinterpret such things. But the fact is, we had alerted the Chinese about the situation in Tibet on March 13, a day before the unrest erupted," Lodi said.
He, however, welcomed Chinese President Hu Jintao's statement that his government is serious about the dialogue and his acknowledging that the Dalai Lama is conscientious and serious.
"The words of the president were quiet encouraging. Tibetans and the international community are being very skeptical about the dialogue process. In such a time to hear an assurance directly from the most important person in the country is an indicator that the government is serious," Lodi said.
Many see the informal talks and the promise to meet again to resume the formal dialogue as an exercise by China to buy time till the Olympics. They point out to Jintao's statement in Japan soon after the two sides met on Tuesday.
Jintao had reiterated China's stand that the Dalai Lama was inciting violence in Tibet. The Chinese president was speaking in Japan.
"China is continuing its policy of double talk. It just wants to buy time. Jintao's reiteration of the accusation against the Dalai Lama and China's typically condescending statement that it listened to the envoys with patience says a lot about its attitude. Nothing new will come out of these talks," said Ronny Novick, an American radio producer working out of Dharamsala.
Lodi also said China stuck to its stand on punishing those arrested. "We asked for the release of those prisoners who are innocent. And we also asked for medical aid for those injured in the firing. The Chinese side said those who had broken the laws of the land will be dealt with accordingly. Like this, we disagreed on more issues and agreed on less," Lodi said.
Asked if he had taken up the issue of opening up Tibet to international monitors and observes, Lodi said: "No we did not. We do not think the Chinese government is the right party to go to with this request," he said.
Image: Envoys of His Holiness the Dalai Lama Lodi Gyari (R) and Kelsang Gyaltsen address a press conference in Dharamsala , after their return from talks with Chinese authorities in Shenzen.
Photograph: Strdel/AFP/Getty Images