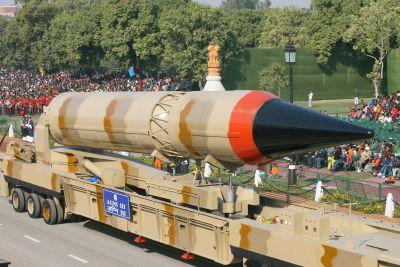 India on Wednesday successfully test-fired its 3,000 km range surface-to-surface nuclear capable Agni-III missile for the second time giving the country a capability to hit targets as far as deep inside China.
The all solid fuel missile took off from Wheelers Island off Orissa coast at 09:56 hrs and achieved its full range and accuracy by reaching its pre-designated target in 800 seconds.
"The missile is now ready for induction," jubilant DRDO scientists told media persons after the missile achieved its target in a copy-book style.
With this second successful test-firing, India now joins a select group of nations having intermediate range ballistic missiles with range up to 3,000 km. The missile will give the nation the capability to target cities in China like Beijing and Shanghai.
It was a sort of golden jubilee gift of the DRDO to the nation as the organisation is about to launch from Monday celebrations to commemorate 50 years of its existence. The success of Agni-III paves the way for India to build its truly intercontinental range missiles Agni-IV with a range of 5000 km in the near future.
A miniaturised submarine-launched version of the Agni-III called Agni-III SL is also being developed and could be test-fired shortly.
Unlike Agni-I and Agni-II, the Agni-III missile has been designed and optimised to carry lighter 200 KT thermo nuclear pay-load weapons.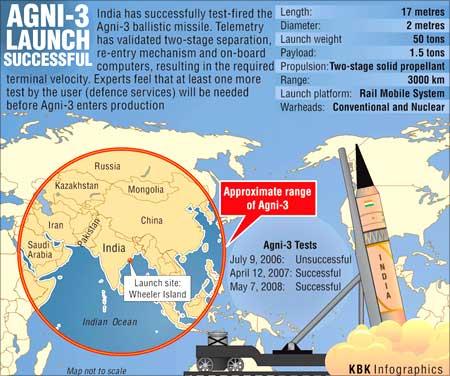 The third stage booster being installed for the future Agni range of missiles will give them capability of hitting targets at longer distances fairly accurately.

"The missile reached the pre-designated target in a time of 800 seconds, travelling through a peak height of 350 km with a velocity of more than 4000 mt a second," Avinash Chander, Director of the Agni Project, told media persons in Balasore.
He said, "All the sub-systems of the missile functioned in a copy book manner giving an outstanding integrated performance of the missile in terms of range and accuracy."
For the first time, the missile scientists flight-tested high performance indigenous Ring Laser Gyro based navigation system in the Agni range of missiles. So far the DRDO has been using Strap-down Inertial Navigation Systems.
With the revival of the Indo-Russian GLONASS project, which will be in orbit by 2010, Indian missiles are expected to have more precision.
Two Indian naval warships positioned near the target location, South of Equator, confirmed the impact of the missile. This was the third test-flight of the missile.
Image: A replica of the Agni-III missile being showcased at the Republic Day parade this year.
Reportage: PTI | Photograph: Raveendran/AFP/Getty Images