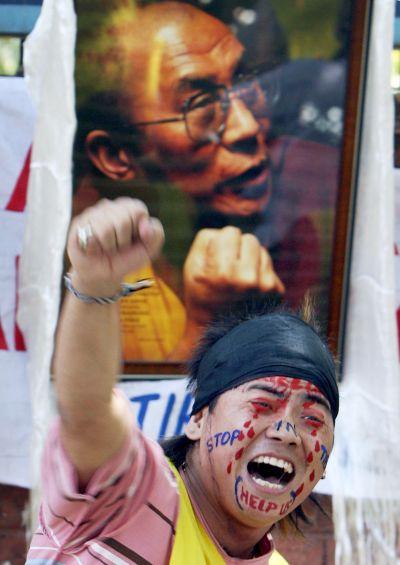 Tibet's on fire and 'Big Brother' India is absconding.
New Delhi seems to have washed its hands off and chosen to toe China's line on Tibetan pro-independence protests.

A day after clashes broke out in Lhasa, India said it was watching the situation and added that government will come out with its views on the developments in a day or two.

Days later, in a delicate balancing act, all New Delhi did was to express 'distress over the unsettled situation' in Tibet and hoped that the 'causes' for it would be resolved through dialogue.
The government also asked Tibetans to refrain from indulging in activities that spoil India's relations with 'friendly' countries. It also categorically asserted that it will not permit Tibetans to engage in anti-China political activities in India.
Should New Delhi sacrifice Tibet at the altar of its ties with Beijing or should it adopt a more pro-active stance on the issue? Tell us.

Image: A Tibetan demonstrator shouts anti-Chinese slogans in front of a portrait of Tibet's spiritual leader the Dalai Lama during a protest in New Delhi.
Photograph: Raveendran/AFP/Getty Images

Also Read: Revolt in Tibet: Implications for India