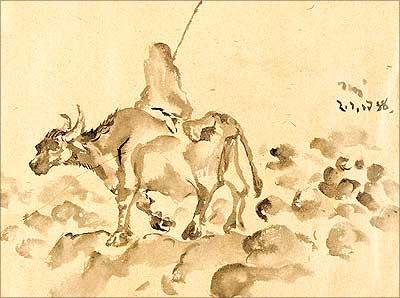 The San Diego Museum of Art held an exhibition of paintings of Nandalal Bose, the great Indian painter whose major work spanned the first half of the 20th century. The paintings convey aspects of nature and spirituality, simple lives of villagers, women at work, and also subtly reflect the socio-political environment of life in Bengal at the time.
Titled Rhythms of India: The Art of Nandalal Bose, the show was the first comprehensive traveling exhibition outside Asia of paintings by Bose (1882-1966), often deemed the father of modern art in India.
Credit for suggesting bringing the paintings of Bose to San Diego goes to Professor Pramod Chandra, George P Bickford Professor of Indian and South Asian Art, now emeritus, of Harvard University, and a mentor to Sonya Rhie Quintanilla, the curator of Asian Art at the San Diego Museum of Art.
A collaboration with the government of India  saw these rare paintings, which are primarily from the collection of the National Gallery of Modern Art, New Delhi, being brought over.
According to Professor Chandra, "Nandalal Bose marks the transition from the traditional to the modern in Indian art. He is a key to cultural transformation in the country and would be of vital interest to all who seek to not only understand modern art but modern India."
These paintings were part of the family's personal collection and never exhibited and  never put up for sale until 1982, when they entered the National Gallery of Modern Art.
Derrick Cartwright, executive director, San Diego Museum of Art, said, "The greatest strength of the Binney collection resides in works done prior to the 20thcentury. Since Nandalal Bose is one of the key artists in modern 20th century India, we felt it would be an important contribution to an American public's knowledge of Indian art to mount this exhibition.… Bose is a fascinating figure, whose talents as an artist are matched by the large role that he played in the Independence movement of India."
Born in Bihar, Bose spent most of his life in Bengal as an artist and teacher. At the beginning of his career in 1905, he was one of an extraordinary circle of artists and visionaries who sought to revive the spirituality and cultural authenticity of Indian art after 50 years of colonial rule.
Also pertinent was the role of Jas Grewal, Chair of the Committee for the Arts of the Indian Subcontinent, for the museum, "It's been a sixteen-year journey and labor of love for me.  I came to the museum really by accident in 1992 and I never left!  Each step of my journey has contributed to bringing the Bose exhibition to San Diego and it gives me immense pleasure to see the community today embracing the Nandalal Bose exhibit and learning about the history and art of the subcontinent."
The exhibition starts in an antechamber, where the paintings are placed in perspective with the work being done in Kolkata in the late 1800s. Since this was the time of the British Raj in India, the paintings reflected the colonial style of art -- the British academic style of huge framed oil paintings which adorned the walls of the middle class and the upper middle class of that time.  It was also around this time
that a mass production of devotional images began with the proliferation of the printing press, and Indian painters, like  Raja Ravi Varma, achieved celebrity status.
Nandalal Bose played a leading role in the renaissance of India's art when, in the early 20th century, Indians began awakening to their traditions: Art, paintings, the Ajanta murals, India's own literary works, and illustrated scrolls or patua paintings of Bengal. This was helpful in providing a much-needed sense of national identity.
Along with Rabindranath Tagore other notable artists at that time were Abanindranath Tagore, Gaganendranath Tagore and Nandalal Bose, all prominent in the Bengal revivalist movement.
When Tagore founded the Kala Bhavan in Santiniketan, he invited Bose to be its first director and gave him a free hand. Bose's focus was to awaken the creative potentials of each individual. He was fascinated with Japanese brushwork, but his oeuvre was not influenced by just one school of art. His works reflect a varied and creative overlapping of styles, including the uses of figures, of landscapes, of rustic life, of religious and spiritual figures like Chaitanya, etc. To create his effects, he used skillful combinations of ink and brush on postcards or silk.
The paintings exhibited at SDMA also highlight the role of Arjuna, the hero of the epic Mahabharata; and the great Vaishnava saints. In some of Bose's paintings he used a wash technique he learned from Japanese artists visiting Kolkata; these are event in Sati, a painting depicting Lord Shiva's wife who used her yogic powers to generate fire and set herself ablaze to be reunified with her husband.
Most paintings are on paper; some are drawn on silk using opaque watercolors made from indigenous materials and locally available resources. A number of paintings using pen and ink or pencil on postcards were also on display.
Bose, like Mahatma Gandhi, believed that India's strength lay in her villages, and his depictions of the people who lived in the rural communities strongly reflect that belief. On display at the exhibition are numerous paintings depicting the simple everyday lives of people in the countryside, like New Clouds (1937) or Buffalo Rider (1944).
Curator Quintanilla said, "Nandalal's paintings of the Santal tribals, who lived in the villages surrounding the university campus at Santiniketan, lend them such a dignity and so revealed the harmony of their lives with nature that Mahatma Gandhi considered Nandalal's paintings to be completely in line with his own ideals for social justice that he felt were necessary for a strong independent nation.
In this way, Nandalal's works, though never overtly political or propagandistic, served the nonviolent freedom struggle by breaking down divisive boundaries, such as those of class, gender, and religion."
Also on display is Bose's vibrant depiction of the village life through the posters that he specially prepared for the Congress party's historic Haripura session in 1938.
Gandhiji invited him to paint these posters which are influenced by the rural Bengali pata style of art.
There is a separate section of  works by well-known artists who were his students or highly influenced by his art work. Most notably, Benode Behari Mukherjee and Ramkinkar Baij, who were among Bose's first students, are represented in the exhibition in both painting and sculptures. Their students, who in turn are some of the best-selling artists in India, including A Ramachandran and K G Subramanyan, also have their distinctive paintings and sculptural works on view.
Image: One of the acclaimed paintings of  Nandalal Bose.