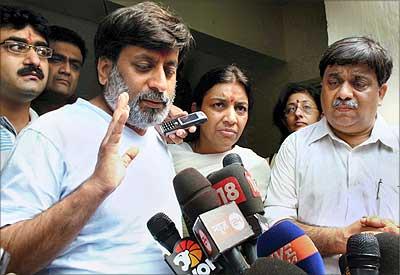 Rajesh Talwar, a noted dental surgeon, on Saturday walked free out of jail after a 50-day traumatic period when the Noida police accused him of murdering his daughter and the media spinning salacious stories about him.
Forty-nine-year-old bearded Talwar came out of Dasana jail after his relatives completed the formalities of providing surety for the bail given by a Ghaziabad court, to a reunion with his wife Nupur Talwar, also a doctor; brother Dinesh Talwar, and other relatives.
After a quiet hug with his wife and his relatives in the full glare of television cameras and a huge crowd around, Talwar said: "Finally the truth has come out. I will talk later on."
Talwar was arrested on May 23, a week after his daughter and his domestic help Hemraj, were found murdered at his home, on suspicion of his involvement in the killings.
The Noida police had cooked up charges on the basis of interrogation of some people and immediately thereafter the media also came out with various stories of Talwar's alleged affairs with another woman doctor and that his daughter had come to know of it and had quarrelled with her father over the matter.
The CBI on Friday told the designated court that they had no evidence to link Talwar to the two murders, after which the court granted bail to him.
As the mikes of the media were extended to seek his reaction, his brother told the scribes, "Rajesh needs support. We will share his feelings and the tragedy we have gone through. We thank everyone who stood by us in the hour of grief."
While mediapersons were chasing Nupur, she only managed to say, "I thank God that finally justice has prevailed. We will go home and face the situation."
As the media hounded the Talwar family as it has being doing ever since the murder came to light, they drove away to the home of a relative of Nupur Talwar in Delhi and not to their home in Noida.

Image: Rajesh Talwar addresses the media along with his wife Nupur and relatives in Noida on Saturday.
Photograph: PTI photo