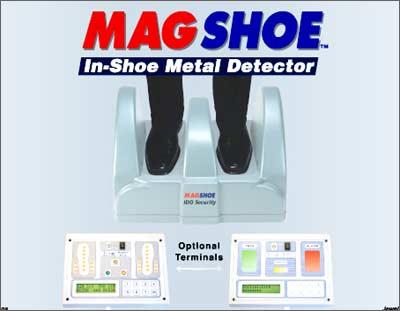 The 9/11 attacks in the United States could have been prevented by these shoes, which the Israeli manufacturers claim can stamp out the footprint of global terrorism from the skies.
Mag Shoe, an in-shoe metal detector, can stop terror in its tracks by plugging the most problematic area of checkpoint scanning -- the shoes.
"'It is very difficult to detect metallic substances in shoes and weapons are being smuggled into secure areas by putting them into the soles of shoes which cannot be scanned through the normal Door Frame Metal Detector (DFMD)," said V Purushotham of VIPRA TechnolEdge, which markets the Israeli product Mag shoe in India.
The Mag Shoe is built to do ''in shoe metal detection'', he added.
"It will not replace the DFMD but complement it and enhance the security environment," he added.
Terrorists concealed knives in their shoe soles to carry out the September 11 attacks. The US then requested an Israeli company to develop the Mag shoe and even gave funding for the purpose.
The shoe detector is now being used in the US, the UK, Australia, Germany, Hungary, Singapore and Spain among other countries and VIPRA Ltd is introducing it in India which will become the first country in South Asia to use this technology, he said.
The Mag Shoe can detect the metal up to 10 cm from the ground within 1.6 seconds while the DFMD usually cannot detect the metal 0-5 cms from the ground. It compensates automatically for the nearby metals to give an accurate assessment and has six sensors as compared to two in the DFMD.
"It is compact, portable, quick, cost efficient and detects all metals -- ferrous and non ferrous."
Leading the way in next-generation security systems, the Mag Shoe, which will cost about Rs 3.25 lakh, will go a long way in stopping terror's death march, Purushotham said.
"We had a trial in the Mumbai and Delhi airports. The CISF in Mumbai has asked the GVK group to purchase more than 40 Mag Shoes. We are hopeful that these will be used in India in the next three months," he said.
The shoe detector can be installed not only in airports but prisons, markets, seaports, schools, stadiums, railway stations and other sensitive places.
It not only upgrades security but also prevents losses as even a pen drive cannot be smuggled out without detection.
CRPF IG D C Dey, who was present during the presentation, said the Mag Shoe would greatly improve the security environment by augmenting the normal metal detectors and assisting the security personnel involved in physical frisking.
"The human factor has its limitations and technology can step in and compensate. It can maximise the security checks put in place," he said.
Asked if he would recommend the shoes to the government, Dey replied in the affirmative.
Photo courtesy: http://www.vipragroup.com/