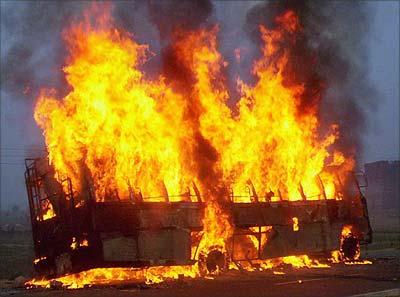 With three more persons succumbing to injuries, the death toll in the devastating bus fire In Firozabad rose to 63 on Wednesday.
       
"63 pilgrims travelling in the private bus that was returning from Jai Gurudev Ashram in Mathura have been killed
in the mishap that occurred on Tuesday evening," district magistrate, Firozabad, Amit Gupta said.
       
The family members of the victims have reached Firozabad from Sultanpur. As several of the bodies were charred beyond recognition, the families have requested the administration to make preparations for the last rites in Firozabad.
      
"The needful would be done. The families wishing to take the bodies back home would be allowed to so," the DM
said.
      
State tourism minister Vinod Singh and Samajwadi Party leader Shivpal Singh Yadav visited the accident site in
western Uttar Pradesh on Wednesday morning.
 
According to superintendent of police, Firozabad, Navneet Kumar Rana the accident took place when one of the tyres of the speeding bus burst. The diesel tank of the bus exploded and it caught fire near Rupaspur village.
      
The state government has announced an ex-gratia of Rs one lakh for the next of the kin of those killed and Rs 50,000 for the seriously injured.

Image: The bus ablaze on National Highway No. 2 at Rupakpur in Firozabad on Tuesday.
Photograph: PTI Photo