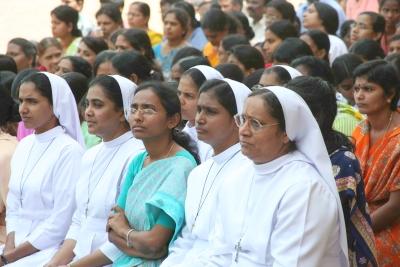 Thousands of Catholic educational institutions across the country shut down today in protest against the violence unleashed against the Christian community in Orissa following the murder of a Hindu saint.
'We cannot remain spectators to what is happening in Orissa," Bishop Dinesh Kumar Sahu, general secretary of the National Council of Churches in India, a grouping of 30 Orthodox and Protestant churches, told the Ecumenical News International.


In Kerala, All Christian denominations pledged solidarity with the Catholic church by wearing black badges, passing resolutions condemning the attack on the community and holding prayer meetings in their institutions, sources said.
Schools and colleges run by three Catholic groups -- Syro Malabar, Syro Malankara and Latin hierarchy -- remained closed for the day.
In Tripura, a peace rally was also organised by a prominent church body in the state capital highlighting the need for maintaining communal harmony in Orissa, where surge in violent activities has claimed 12 lives so far.
Spokesperson of Catholic Diocease of Agartala Father Joseph Pulinthanath said the schools were closed in response to a call by the National Christian Council of India.
Catholics in the state would observe a fast and pray on September 7 for restoring communal harmony and peace in Orissa, he said.
In Nashik, Archbishop Dr Felix Machyado said, "We strongly condemn the killing of the VHP leader in Orissa."

Machyado asked the convent students and their parents to stay home and pray to establish peace and love among the people.
Earlier, a special-prayer meeting of all Christians' educational institutions, its staff, teachers and principals was held at Nashik road on Friday morning.

In Karnataka, Christian schools and colleges remained closed on Friday following the call was given by Archbhishop Bernard Moras.
He claimed that more than 2,000 educational institutions in the state, belonging to the community, would take part in the peaceful protest to condemn the violence.
Christian educational institutions, numbering about 25,000 in the country, would remain closed to condemn the attack and demand an inquiry into the incidents. 
Orissa has seen a wave of violence since August 25 when Swami Lakshmananda Saraswati was shot dead, allegedly by Maoists.
Following this churches and other Christian institutions in Orissa, notably Kandhamal district, were targeted by the hordes, and many are feared killed in the violence.
Prime Minister Dr Manmohan Singh has described the violence against Christians as a 'national shame'.

Photograph: SnapsIndia