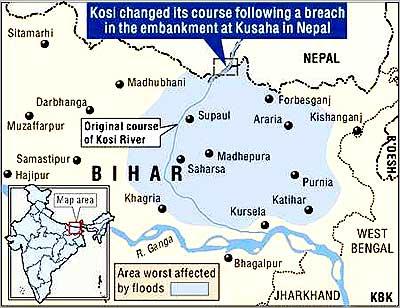 Work to fill the nearly two-and-a-half kilometre breach in the Kosi barrage embankment has begun with the help of initial supplies from the Farrakka barrage. The breach has caused the worst flood in Bihar in recent history.
An Indian team of engineers has started work to contain the breach along the river in Nepal's southern district of Sunsari, where monsoon flood has displaced thousands of people. The Kosi flood has displaced over 60,000 people in Nepal and hundreds of thousands of people on the Indian side of the border.
Officials in the ministry of water resources went into a huddle today even as Bihar Chief Minister Nitish Kumar met Prime Minister Manmohan Singh and sought central assistance of Rs 1,000 crore and one lakh tonnes of foodgrain immediately for the affected people.
Kumar said the number of affected people was 1.1 million. He added the number could go up to 2.5 million if the Kosi river rose further as has been the trend during September-October.
The prime minister carried out an aerial survey of the flood-affected districts along with Congress President Sonia Gandhi will also visit the affected areas.
The breach in the 32-km embankment on the left side of the barrage has flooded six districts and affected about a million people, said the ministry, which funds the maintenance of the Kosi barrage and its embankments. The Nepalese authorities were placing boulders in the swollen Kosi from the north, said officials.
The maintenance of the embankments, which costs Rs 3-4 crore annually, was affected this year due to the Maoist disturbance, said Water Resources Secretary Umesh Narayan Panjiar.
The Bihar government has sought Rs 20 crore for the repair work, while the entire stretch is expected to cost roughly around Rs 300 crore, say officials.
The state government also demanded that the Prime Minister's Office "must" pursue diplomatic initiatives with Nepal to find a solution to the problem.
Powered by