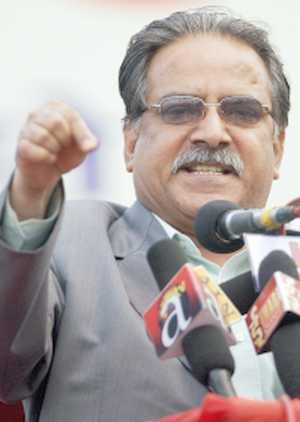 Newly elected Prime Minister Pushpa Kamal Dahal (in the picture) on Saturday said the industries and business enterprises in Nepal which were closed due to the Maoist threats in the past will be reopened.
Maoist chief Dahal popularly known as Prachanda, who waged a decade-long armed struggle against monarchy, was on Friday elected Democratic Nepal's first Prime Minister in a one-sided race in the Constituent Assembly.
Dahal, during a meeting at his Baluwatar residence with a business delegation led by chairman of the Federation of Nepalese Chamber of Commerce and Industries Kush
Kumar Joshi, said the government will make efforts to reopen all those industries which were closed due to the threats issued by Maoist trade union workers or by other armed groups.
The prime minister assured that he will also make efforts to reopen the highways in eastern Nepal which have remained closed for the past one week following killing of a
truck driver by unidentified gunmen, said noted industrialist Rajendra Khetan, who is also adviser of the FNCCI and a member of the Constituent Assembly.
Thousands of passengers have been stranded and supplies of essential commodities have been halted in eastern Nepal due to the indefinite transport strike.
The former guerrilla leader also promised to protect market economy and promote nationalist capitalists besides allowing the foreign investment and national labour market keeping in view the national interest.
He said the new government is committed to implement all past agreements reached with the business communities and will go hand in hand with the national industrialists and entrepreneurs.
 Photograph: AFP/Getty Images