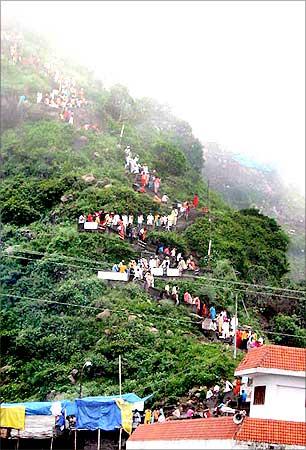 Over 25,000 devotees have offered prayers to the Goddess since morning on Tuesday, two days after tragedy struck claiming 146 lives.
Marking a victory of faith over fear of loss and death, men, women and children kept pouring into the eighth century temple premises throughout yesterday night, with the visitors' count hitting 35,000, temple officer and local tehsildar Narendra Kumar Ahluwalia said.
Most pilgrims hailed from Punjab, Haryana and Himachal Pradesh. The Shravan Navratra festival that began on Saturday will end on August 11.
Following Sunday's stampede, the police have stepped up security by raising patrol strength on site to 1,000 mobilising forces from neighbouring districts and halting pilgrims at barricades placed every 100 metres along the one-km temple trek, deputy superintendent of police Yogesh Guleria said.
Text and photograph: PTI