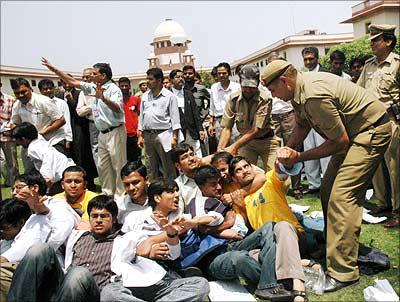 Students agitating against quota for Other Backward Classes in higher educational institutions on Thursday staged a silent protest in the Supreme Court premises in New Delhi and clashed with the police when they were taken out.
Coverage: The Reservation Issue
Around 40 students from AIIMS, Jawaharlal Nehru University, Delhi University, IIT-Delhi and government-run medical colleges gathered at the lawns of Supreme Court at around 11 am to stage the demonstration.
A clash ensued as police took the students out of the court premises and around ten protesters suffered injuries in the process. The injured students were taken to Ram Manohar Lohia Hospital, police sources said.
A large number of students had also gathered outside the Supreme Court and shouted slogans against the government, which they allege is trying to circumvent the apex court ruling by planning to extend quota benefit to post graduate courses.
"We want the Supreme Court verdict to be implemented in its right spirit," said Kaushal Kanth Sahay, a resident doctor at AIIMS who also suffered injuries in the clash with police.
Ninety-three protestors, including 17 women, were detained, a senior police official said, adding they were released later.
Traffic in the area was also affected for sometime due to the protest.
The Supreme Court had on April ten upheld the controversial law providing 27 per cent quota for OBCs in elite educational institutions but excluded the 'creamy layer' from its ambit.
Reportage: PTI | Photograph: PTI Photo