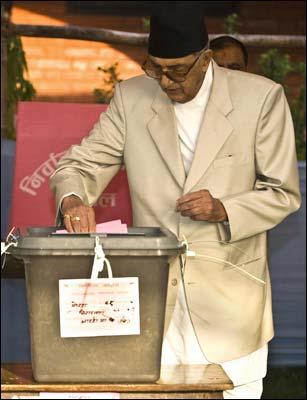 Nepal voted on Thursday in a landmark constituent assembly election that will decide the fate of the centuries-old monarchy and the future political system of the Himalayan nation.
Polling started at 0700 hours (0645 IST) and will end at 1700 hours (1645 IST), election officials said. Some 6,000 candidates are contesting the election under proportionate voting system while 4,021 candidates are in the fray under direct voting system.
Altogether 55 political parties are participating in the crucial polls in which some 17.6 million people are eligible to vote.
The country has witnessed a violence-marred campaign for the crucial elections to elect a body that will rewrite the Constitution and decide the fate of the 239-year-old monarchy.
The vote is a key step towards culmination of the peace process that started with the signing of a November 2006 deal following which the Maoist rebels ended their decade-long insurgency and joined the political mainstream.
The common agenda of the ruling Seven Party Alliance for the election is to abolish monarchy and establish a federal democratic republic.
Maoist chief Prachanda voted in Chitwan district, 100 kilometres southwest of Kathmandu soon after polls opened.

Image: Nepal Prime Minister Girija Prasad Koirala casts his vote at a polling station in Biratnagar constituency number 7, some 200 km from Kathmandu
Photograph: Getty Images