Former Congressional staffer Priya Dayananda, 36, currently the Director of Federal Government Affairs for KPMG LLP, has been named one of the top 25 corporate lobbyists on Capitol Hill, by the
Hill
newspaper, which exclusively covers the US Congress.
KPMG LLP is one of the 'Big Four' accounting firms with a global network of professional companies providing audit, tax and advisory services.
"This former senior staffer to three House Democrats is KPMG's not-so-secret weapon on the Hill," said the Hill in its listing of the 'Best in the Business: The Top 25 Corporate Lobbyists in the United States.'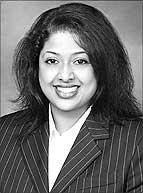 ,
She was right up there with the top corporate lobbyists for Fortune 500 giants like Microsoft, Citigroup, Bank of America, General Electic, Boeing, Proctor & Gamble, Wal-Mart and Ford and the heavweights in the defense industrial complex like Lockheed Martin and Northrop Grumman.
Before she became a lobbyist, Dayananda served as senior legislative aide and adviser to two members of the House Financial Services Committee, US Representatives Steve Israel and Greg Meeks, both New York Democrats, and to US Representative E B Johnson, Texas Democrat.
Dayananda, who joined KPMG last June, told rediff-India Abroad that "I am just thrilled to be on this Top 25 list, up there with all of these hot-shot lobbyists of these Fortune 500 giant companies who've been working the Hill for years and years."
"This was just wonderful news and more so because I was the only minority — there were no African Americans, Latinos or Asians, and I was also the youngest," she said, and added, "I was also only one of five females."
"You bet my Congressional stints have held me in good stead in the friendships and networks of contacts I established, and also much more importantly, in terms of integrity and credibility," she added.
She has been a registered lobbyist since 2001, and in a field of 35,000 lobbyists, she was one of the first Indian-American lobbyists and the first female Indian-American lobbyist to be hired in the United States.
At KPMG, she communicates the firm's priorities and positions to members of Congress and regulators, as well as aggressively advances the firm's public policy agenda.
"It is the mission of government affairs in the company to represent all of its interests in all matters of public policy," she said, noting that "our goals are achieved through advocacy on issues of direct concern to the firm."
"This involves analysis of policy changes as they affect clients, and positioning KPMG as a leader in public policy matters of broad interest to the business community, and ongoing liaison with trade and professional associations, business coalitions, research organizations, opinion leaders, and of course, the media," she said.
Before she joined KPMG, the Lock Haven, Pennsylvania-born Dayananda had five years experience as a lobbyist, having served as director of government relations for America's Community Bankers -- the national trade association representing over 1,000 financial institutions -- and as assistant director of government relations for the National Association of Minority Contractors -- the national trade association for minority-owned and women-owned construction companies.
She is an alumnus of Lock Haven University in Pennsylvania from where she received her bachelor's and master's degrees in journalism and mass communication respectively.
Dayananda is an advisory board member of The Pennsylvania State University's College of Communications' Washington Program, and a board member and secretary for Women in Housing and Finance.