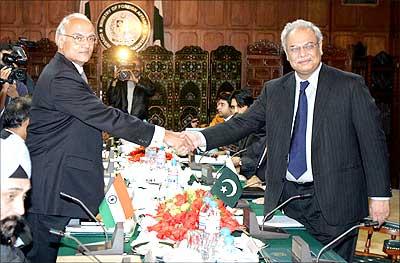 India and Pakistan on Tuesday launched the fourth round of the composite dialogue in Islamabad as the foreign secretaries of the two countries met to discuss eight outstanding issues including Jammu and Kashmir and terrorism.
As they met, both foreign secretaries Shiv Shankar Menon and his Pakistani counterpart Riaz Mohammad Khan said the two countries wanted to take the peace process forward and expressed hope that their two-day discussions would be fruitful.
"We want to take relations forward," Menon said in his opening remarks.
Khan too expressed confidence that the two sides will be able to advance the peace process.
During the parleys on the eight issues, the Indian side is expected to press Pakistan to take effective steps to curb cross-border terrorism.
The two sides will also discuss Jammu and Kashmir and various confidence building measures like the launch of the truck service between Srinagar and Muzaffarabad, easing of visa regime and early release of fishermen and other prisoners.
Pakistan may raise the demand for demilitarisation in Jammu and Kashmir, but India has made it clear that such a step can be taken only when terrorism ends in the state.
On J&K, India has said it is ready to discuss any proposal for its resolution, but will not accept anything that compromises national sovereignty or leads to change of boundaries as New Delhi feels a solution has to be found within the Constitution of the country.
Terror infrastructure in Pakistan-occupied Kashmir, Pakistan part of Punjab and North West Frontier Province is still intact, which is a major concern for India.
Besides, there is no reduction in infiltration figures. This is the fourth round of talks since the resumption of the peace process in January 2004 that was stalled following the attack on Parliament in December 2001.