The voice over the phone greets you with a deep and loud voice, Jai Maharashtra, the Shiv Sena's traditional greeting.
When you enter his office, your name has to be registered mandatorily in Marathi as English is not allowed at Sena Bhavan, the party's headquarters in Dadar, northcentral Mumbai.
As you enter the cabin where Abhijit Panse, president of the Bharatiya Vidyarthi Sena, the Sena's student wing, is based, he is party members discussing how to tackle Orkut, the networking site.
Panse was among the Shiv Sena members who ransacked cybercafes in Kalyan, outside Mumbai, for allowing browsers to access Orkut.

Behind him is a huge frame of Chhatrapati Shivaji, the Shiv Sena's icon. Apart from this, the room is modestly furnished. What incenses Panse and other BVS leaders is that groups have been formed on Orkut to spread "hatred among Indians", in particular spewing venom about Chhatrapati Shivaji and Shiv Sena chief Bal Thackeray.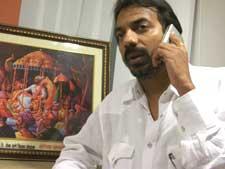 "It is not only Chhatrapati Shivaji Maharaj and our leader Balasaheb Thackeray but leaders like Indira Gandhi and Dr Babasaheb Ambedkar too. Some mischief-mongers have also started a 'I hate India' campaign on Orkut and they want to disturb the communal harmony in our country," says Panse.
"We have time and again raised this issue but nothing is being done about it so we feel the best solution would be to ban Orkut in India," he adds.
The issue has incensed him enough to lead a team of Shiv Sainiks to meet Google officials -- Orkut is a Google site -- and ask them to apprehend the culprits but this mission was not met with success.
Orkut blocked the 'I hate India' pages but they resurfaced in another form with a different identity, Panse says.
He then requested various Internet Service Providers to block Orkut, but again did not meet with success.
When that too did not work he sent letters to cyber cafes asking them to ban Orkut in Mumbai and all over India. It was part of this campaign that his men trashed cybercafes in Kalyan this week.
Asked what cybercafe owners could do, Panse retorts, "You see, if X person is running a hotel and Y person brings a prostitute to that hotel, don't you think it is the responsibility of X to stop this immoral act? In the same way, we feel cybercafes should be responsible and ban Orkut. After all, we are Indians and we should not allow sites that are against our country to run."
When pointed out that the Internet is a free medium and there is no way for him to prevent someone sitting in, say, Australia to post anti-India messages, he said, "I know this. Our software engineers are working on this front and we will track down such people. If that person is even sitting in America we will go and thrash that person. We want to catch hold of such culprits who do such things and thrash them."

Pointed out that Orkut had plenty of anti-America messages, Panse says, "It can be their culture to criticise their leaders but it is not our culture to disrespect our idol, Chhatrapati Shivaji Maharaj. He is like God to us. We cannot tolerate insults on him or Balasaheb Thackeray."

Panse regrets that cyberlaws in India are not stringent and anyone in far-off states can spread all kinds of malicious messages.
On June 7 he faxed a letter to President A P J Abdul Kalam, requesting him to take up the Orkut matter on an urgent basis.
"I have also formed an online community whose members track down such groups. I am doing my best to find a permanent solution to this problem. I am not going to sit and let some people freely insult our leaders and attack our culture," vows Panse.
On a concluding note, when asked what freedom of expression means to him, he says, "It means that one has a right to think and express his opinions freely but not hurt the sentiments of others. This is where Orkut fails, as mischief-mongers are misusing the freedom of expression on the web site by humiliating our leaders and spreading enmity among Indians. Orkut may be an American company but they have to follow Indian laws if they want to operate in India."